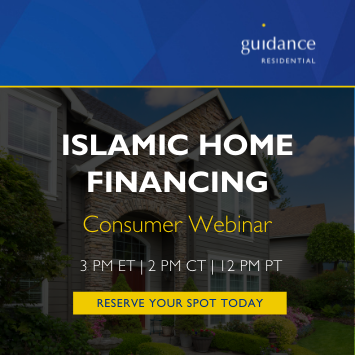 SouthEast LIVE Consumer Webinar – Saturday, June 5th at 3 PM ET
Homeownership is on everyone's mind but often enough, getting started and those next steps can be challenging. Our Guidance Residential South East Team invites you to a free VIRTUAL webinar on the Benefits of Home Ownership and the Islamic Home Financing process. Please join us on Saturday, June 5th at 3 PM ET for an informative presentation introducing Guidance Residential!
Are you interested in Home Ownership?
Are you a First-Time Home Buyer?
Are you interested in refinancing your current home?
Register for this free VIRTUAL workshop on First Time Home Buying and Islamic Home Financing.
We look forward to seeing you and kindly share the event with your networks!