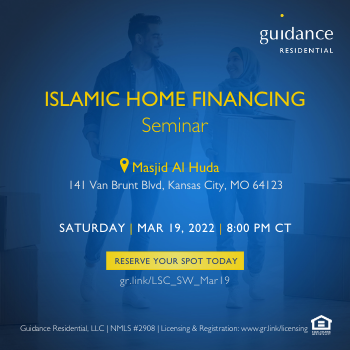 Islamic Home Financing Seminar | Kansas City, MO
Alsalam Alaikum,
We are honored to invite you to attend our educational session on Islamic Home Financing. Achieve the dream of homeownership without compromising your faith with help from Guidance Residential.
Join us on March 19th at 8:00 PM to learn about Islamic Home Financing. Learn what it is, who we are, and how you can get started.
Here are some of the questions we'll be answering:
Who is Guidance Residential?
What are the advantages of homeownership?
What is Riba and how does it apply to today's lending practices?
How does Guidance differ from banks?
What is the difference between Islamic home financing and conventional financing?
How do I get started with Islamic home financing?
Attend our session to have these questions answered and more.
Your attendance is greatly appreciated, and we look forward to seeing you there!
Location: Masjid Al Huda, 141 Van Brunt Blvd, Kansas City, MO 64123