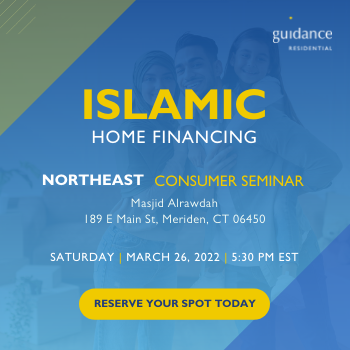 Islamic Home Financing Seminar | Meriden, CT
Guidance Residential is proud to present our Islamic Home Financing Seminar at the Masjid Alrawdah in Meriden, CT on Saturday, March 26th!
Are you interested in Home Ownership?
Are you interested in Islamic Home Financing?
Are you interested in refinancing your current home?
Come explore the difference between Guidance Residential's Declining Balance Co-ownership Program and other home financing options. Guidance Residential is the Largest provider of Sharia home financing in NJ and NY, we have provided over $8 billion in home financing to Muslim American homeowners over the last 20 years.
This session will introduce Guidance Residential, the #1 and Leading Provider of Islamic Home Financing in the U.S. and will cover financing a new or existing home without the compromise of an interest-bearing loan.
You will learn about:
The Advantages of Home Ownership
Understanding Riba in today's Lending Practices
Differences between The Islamic Home Financing Process & The Conventional Process
How to Get Started
LIVE onsite Q&A for all attendees