5 Good Habits in Ramadan to Carry Forward

We are more than halfway through Ramadan, and you've probably built some great habits this month. Good habits in Ramadan, like more prayer, increased charity, and a new level of self control, should stay with you beyond the holy month.
But how can you carry on these habits into the coming year? Below are a few great tips to help.
5 Good Habits in Ramadan (and How to Keep Practicing Them)
1. Make time for the Quran
During this holy month you've probably made it a habit to integrate the Quran into your day. Pencil it into your calendar if you can. If that's difficult, try downloading a Quran app and read it for 15 minutes a day.
2. Keep the suhoor alarm on
You've probably gotten used to waking up a bit before sunrise everyday. Keep the alarm on and use the pre-dawn minutes to reflect on the upcoming day and prepare for the Fajr prayer.
3. Try fasting twice a week
The Sunnah (Prophetic tradition) is to fast on Mondays and Thursdays. This will help extend the mindfulness of Ramadan to the entire year. Plus there's a lot of research that touts the benefits of intermittent fasts.
4. Eat with the family
You don't have to be fasting to have family dinners. Hold on to the feeling of Ramadan iftars by prioritizing family dinners every night. These moments ensure everyone at home has a chance to talk and share about their day.
5. Hit play on the lectures
Learning nourishes your spirituality. Keep listening to your favorite speakers even after Ramadan ends. Listen to stories of the Prophets, Sahaba (RA) – the companions of the Prophet (PBUH), and Quranic commentary.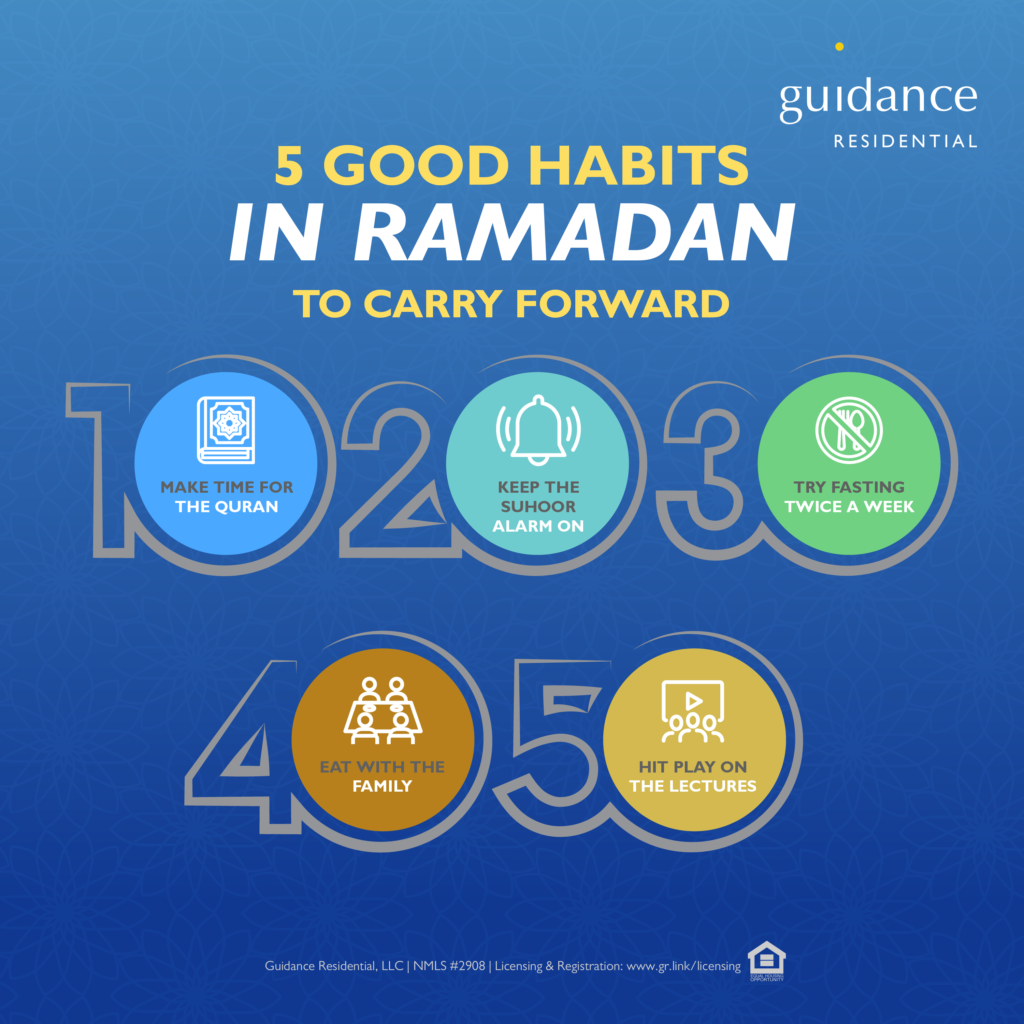 It's amazing how fast this Ramadan has passed. Since 2002 Guidance Residential has helped over 28,000 families celebrate Ramadan in their homes. We are so thankful to be part of their celebrations.
See if you Pre-Qualify in less than 10 minutes.
Ready to start your home search? Get Pre-Approved today.
Save up to an extra $1,195 at closing* when you refinance this Ramadan. Learn more.
*Up to $1,195 credit at closing for 15-year, 30-year, 20-year, and Jumbo contracts. Both existing Guidance Residential customers and new to Guidance customers are eligible for this offer. Promotion cannot be combined with any other offer, discount, pricing exception, or Special Program. Applications must be submitted between March 1, 2022, and May 31, 2022. Excludes customers currently with an active application, customers that are not current on payments, or customers who have financed with Guidance within the last 120 days. Contracts must close by July 31, 2022. Only available on approved contracts. Other restrictions may apply. Refinance option may not be available for some Texas contracts. Contact us for additional information.