Things to avoid during the month of Ramadan

Ramadan is an opportunity to recharge your spiritual batteries. Below are our favorite tips on what to avoid during this blessed month.
5 things to avoid this Ramadan
1. Pause the binge-watching
You might be trying to make time pass by faster, but there are better Ramadan activities to do than watching new shows. Instead, carve out time for reading the Quran and making extra duas and prayers. The shows will still be there after Ramadan ends.
2. End the backbiting
Fasting is more than just abstaining from eating and drinking. It's also about ending bad habits like backbiting, gossiping, and spreading rumors. Keep your tongue focused on dhikr (remembrance of the Creator).
3. Don't overeat at iftar
Ramadan is the season of fasting, not feasting. Keep it simple. Enjoy your iftar but remember too much food can distract you from worship. (And lead to indigestion)
4. End the grudges
Ramadan is a great time to forgive others, especially family members. Don't hold any animosity in your heart during the month of mercy. Forgive and seek your reward from God.
5. Don't oversleep
It might seem tempting to sleep most of the daylight hours, but you might miss out on the blessings of the fasting hours. We are all for a good power nap, but make sure you don't miss prayer times or waste away the day.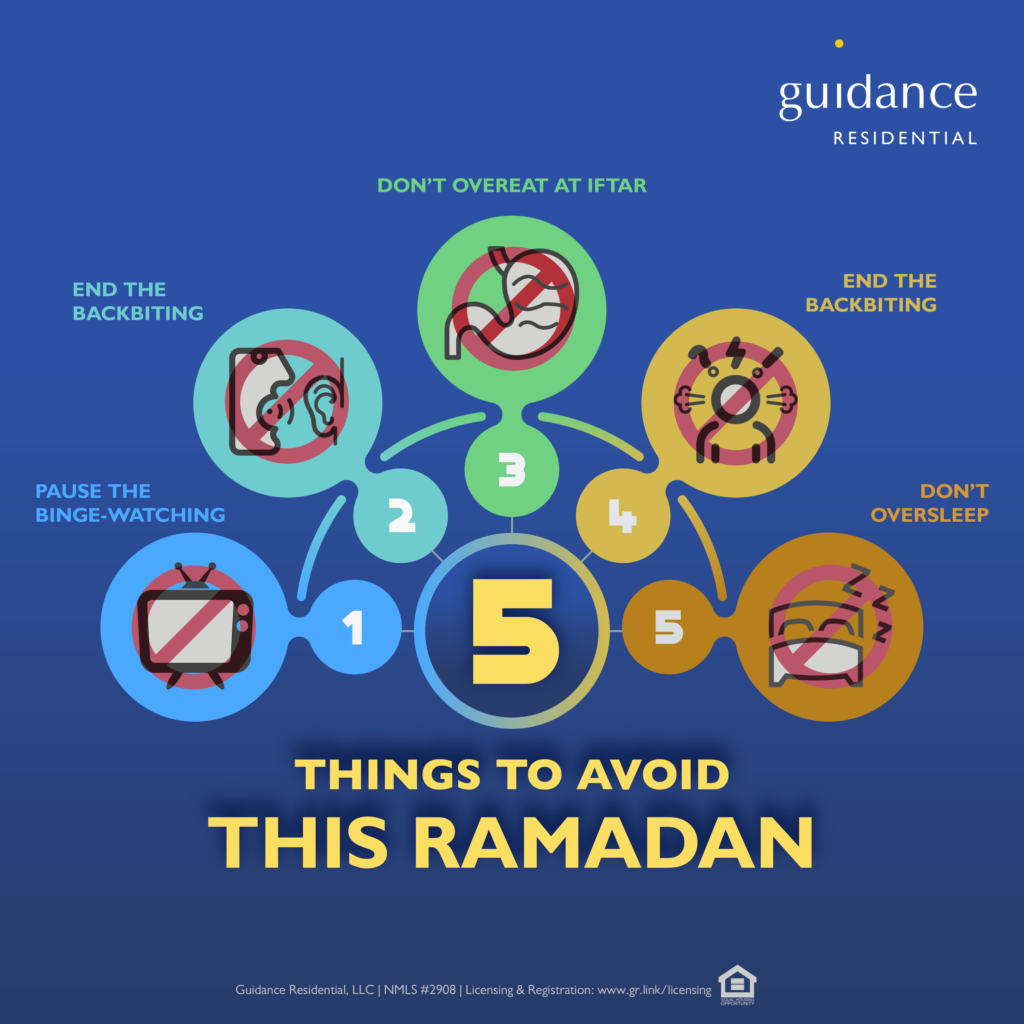 Every Ramadan we're reminded of the blessings of our homes. Since 2002 Guidance Residential has helped over 30,000 families celebrate Ramadan in their new homes. We are so thankful to be part of their celebrations.
Start your home buying journey today.
See if you Pre-Qualify in less than 10 minutes.
Ready to start your home search? Get Pre-Approved today.
Save up to an extra $1,195 at closing* when you refinance this Ramadan. Learn more.
*Up to $1,195 credit at closing for 15-year, 30-year, 20-year, and Jumbo contracts. Both existing Guidance Residential customers and new to Guidance customers are eligible for this offer. Promotion cannot be combined with any other offer, discount, pricing exception, or Special Program. Applications must be submitted between March 1, 2022, and May 31, 2022. Excludes customers currently with an active application, customers that are not current on payments, or customers who have financed with Guidance within the last 120 days. Contracts must close by July 31, 2022. Only available on approved contracts. Other restrictions may apply. Refinance option may not be available for some Texas contracts. Contact us for additional information.