Tips to maintain your productivity during Ramadan

Between family, school, and work, you might find it hard to stay productive while fasting. We've compiled a few of our favorite tips on how to maintain your productivity at home this Ramadan.
5 ways to boost your productivity this Ramadan
1. Get important tasks done after suhoor
Try to tackle the most important stuff early in the day like writing emails and finishing assignments. If you can't stay awake after suhoor, get the most important tasks done when you have the most energy, like before noon.
2. Make goals for the month
Whether you want to learn about Islamic history or memorize a new Surah, try giving yourself bite-sized goals that can be tracked throughout the month. Write them down and check in on them often – you can even use apps like Tally to keep you on track.
3. Recharge with a midday nap
The days are still long so it'll help to take a power nap before iftar. This way you recharge as you head into the home stretch of the day. The extra nap will also help if you choose to visit the masjid for prayers at night.
4. Eat good food at suhoor
Food is fuel. Make sure you plan ahead for simpler Ramadan meals and pick healthy foods that keep you going throughout the day. Oily and fried foods may be delicious, but they can do a number on your energy levels. Pick oatmeal over sugary cereal and fruits over sugary fruit snacks.
5. Don't overwork yourself
It isn't easy to operate at the same levels during Ramadan as you do during the rest of the year. Simplify your routine and focus on your priorities. It's okay to feel tired and not get the same amount of work done. Set reasonable expectations for yourself, and make sure you don't burn yourself out.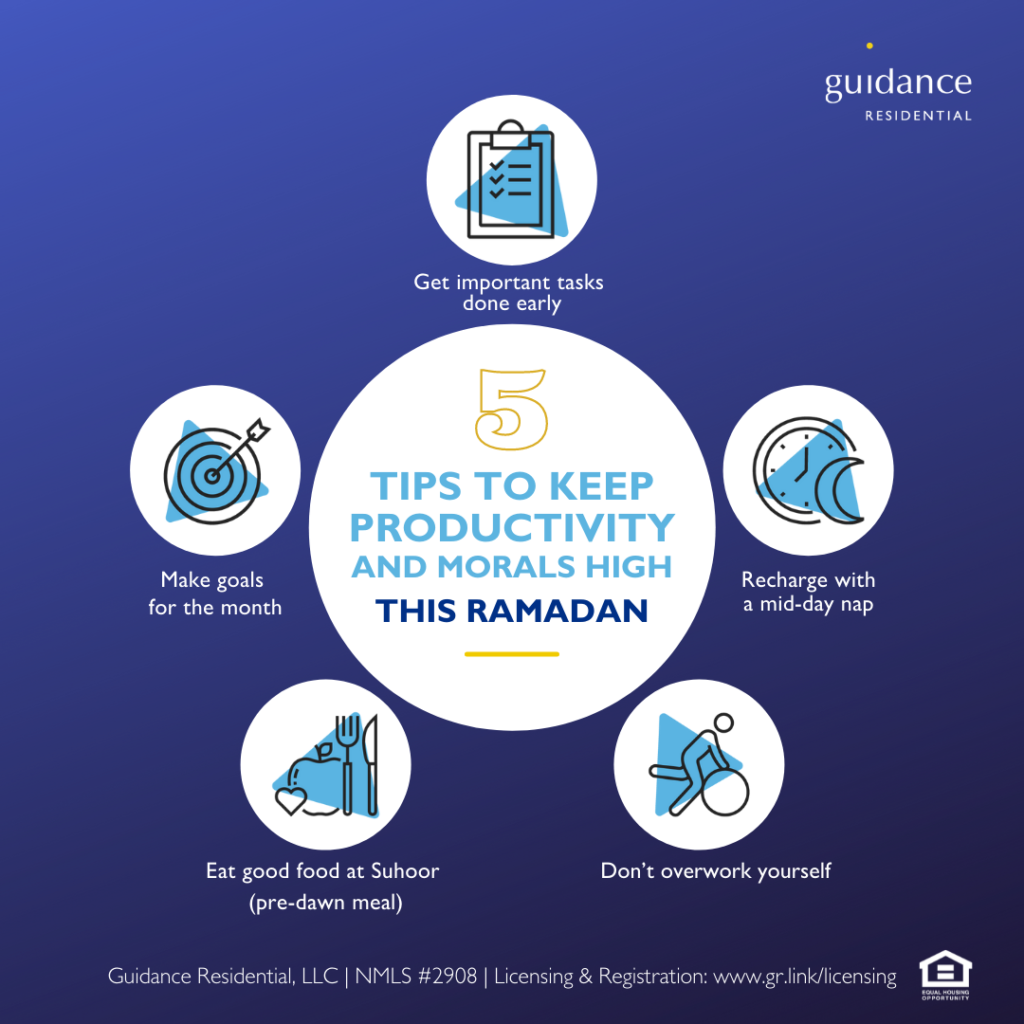 We hope these tips help make this Ramadan the most productive one yet. Since 2002 Guidance Residential has helped over 30,000 families celebrate Ramadan in their new homes. We are so thankful to be part of their celebrations.
Start your home buying journey today.
See if you Pre-Qualify in less than 10 minutes.
Ready to start your home search? Get Pre-Approved today.
Save up to an extra $1,195 at closing* when you refinance this Ramadan. Learn more.
*Up to $1,195 credit at closing for 15-year, 30-year, 20-year, and Jumbo contracts. Both existing Guidance Residential customers and new to Guidance customers are eligible for this offer. Promotion cannot be combined with any other offer, discount, pricing exception, or Special Program. Applications must be submitted between March 1, 2022, and May 31, 2022. Excludes customers currently with an active application, customers that are not current on payments, or customers who have financed with Guidance within the last 120 days. Contracts must close by July 31, 2022. Only available on approved contracts. Other restrictions may apply. Refinance option may not be available for some Texas contracts. Contact us for additional information.