7 Benefits of Virtual Staging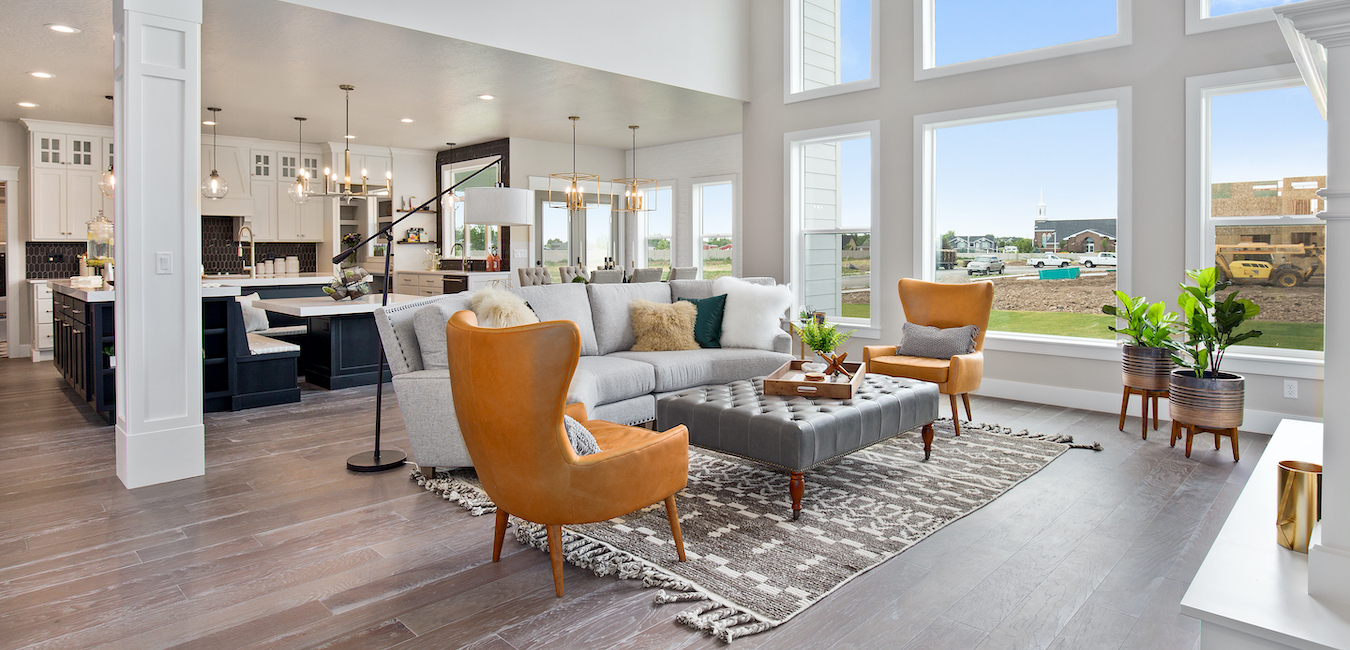 90% of homebuyers are searching online during their home buying process, according to the National Association of Realtors. As a real estate agent, how are you making sure your listing stands out online? One of the answers is virtual staging. Staging a home allows a buyer to see the potential of a home and entices them to give you a call to view it.
Nowadays, you don't need to stage a home by lugging in furniture and hiring a designer. Instead, there's virtual staging. What is it, why is it important, and what are the pros and cons? Let's take a look at the benefits of virtual staging.
What Is Virtual Staging?
Virtual staging is home staging where furniture, décor, and artwork are placed in rooms digitally. Instead of having to purchase items, bring them to the listing, and take time to decorate or pay a home stager, you can do all of that using technology. With the help of photo editing tools, an empty room will look full and a cluttered room can look clean.
Virtual Staging vs. Traditional Staging
The difference between virtual staging and traditional staging is that the former uses technology, while the latter would require you to do everything physically.
In traditional staging, you would hire a professional to help you prepare the home before you show it to buyers. They (or you, if you choose to do it yourself) would find ways to make the listing look appealing to potential buyers. This may involve bringing in furniture, moving décor around, and even making minor repairs to make the house look as aesthetically pleasing as possible. Then you would take pictures of the rooms and list the home.
The popularity of virtual staging is increasing due to the ease and time it can save. In this route, you would start by taking pictures of the listing. You could hire a photographer to do this, or the virtual stager may include this as part of their service. They would then design the rooms digitally by adding furniture and décor in realistic proportions. Once these images are designed, you can list the home.
Why Is Virtual Staging Important?
Virtual staging is important because it can make a listing look enticing and attract attention.
This is especially important in a world where the majority of homebuyers will start their search by looking online. You want to stand out among other listings. It also allows the potential buyer to see possibilities. Some homebuyers may look at a picture and find it difficult to envision themselves living there and completely dismiss your listing. Virtual staging takes care of this by making the listing look welcoming and showing its livability.
When it comes to the seller, they may encourage their real estate agent to use virtual staging, especially during the pandemic. If your seller does not feel comfortable coming into contact with too many people, this is a great alternative to lessen the number of people who need to visit their homes like the designer, painter, furniture delivery, cleaners, and more that are involved in traditional staging.
How Do Realtors Do Virtual Staging?
Virtual home staging for realtors is done by hiring a professional.
You will first hire a professional photographer who will photograph each room that you want to feature. These high-resolution photos will then be given to a professional virtual stager (who could also be the photographer if they have the skillset to do so.) They will likely consult with you to find out your preferences for design. These notes will be taken into consideration to make the photo look realistically furnished. A watermark will be added to disclose that the photo is virtually staged, then sent over to you to upload to your listing.
How Much Does Virtual Staging Cost?
Virtual staging costs could be anywhere from $75 to $150 per photo. The total price will vary based on the number of photos and the type of rooms you need to be staged.
Pricing may also vary by company or individual contractor. You could strike up a deal if you are going to use either of the service providers frequently. Or, the price could also vary based on what type of editing is required. For example, an additional fee may be added if you want lots of details like décor in each room or if you're removing items versus simply adding items.
But remember, with real home staging, you'll need to purchase (or rent) furniture and pay for the services of a designer. This may cost well over the amount needed for virtual staging. And not to mention the amount of time needed on your part to coordinate and visit the listing to open the door and be there as the designer comes by or furniture gets delivered.
7 Benefits of Virtual Staging for Real Estate Agents
One of the habits of successful real estate agents is setting goals. If one of your overall goals is to acquire more listings than ever before, you may want to consider using virtual staging to save time and money, while you continue to pursue more listings. Here are a few benefits of virtual staging to consider.
1. Saves Time
Traditional staging takes time. Spending time to look for furniture and making sure the seller is ok with it being in their house can take hours. You'll also need to schedule a time for movers to come in, set everything up, and also tear it down. During the busy season, every day counts. The one extra day you needed to wait for the home to be ready before listing could cause your potential buyer to put an offer on another house.  
2. Takes Care of Privacy Concerns
Getting clients in real estate is no easy feat and when you care for your clients and go above and beyond, they will appreciate it and remember it for years to come. (Which can also result in a steady flow of referrals.) Putting pictures of your seller's home online, which includes all of their belongings can sometimes raise privacy concerns. You can show you care about your seller's safety and offer your seller another option by using virtual staging.
3. Eye Catching
Homebuyers will almost always search online for homes before they even decide to make an appointment with a real estate agent. If you're listing a vacant home, the photos may not be very eye-catching. The same goes for a cluttered home, which may make a buyer not give your listing a chance. First impressions are really important online, so virtual staging can give your photos the attention it needs.
4. Cost-Effective
Home staging costs can be high. From hiring a professional designer to the people who transport the new items that you want to decorate the space with, the bills can add up for traditional staging. And even if you choose to rent furniture, you may have to pay for insurance. Your time is valuable and virtual staging can streamline many of these steps into a simpler and more cost-effective process.
5. Gives Perspective
When looking at a photo of a room without any furniture, some homebuyers may find it difficult to visualize themselves living there. With virtual staging, not only are you able to give the homebuyer perspective by putting furniture in it digitally, but you could also showcase other uses for the room. For example, you could virtually stage an extra room as an office, or a children's playroom. Just don't forget to add a disclaimer to avoid disappointment when the homebuyer views the home in person.
6. More Variety
When choosing the virtual staging route, any style, color, or design is available to you. If you aren't able to find a table that matches perfectly with the couch you just bought to stage with, you don't have to worry about that with virtual staging. And if you don't like the color of that table too, you can change that. This variety of options available to you is also beneficial because you can design the home in a way that is typical of the area that the home is located in.
7. Safety
With the pandemic changing the real estate industry, like bringing open houses and even closings online, virtual staging is also becoming the new normal. Traditional staging requires many parties to enter your seller's home. With virtual staging, you can limit contact and it allows for more social distancing.
Cons of Virtual Staging Real Estate
When done properly, virtual home staging can bring the best out of a home. However, just because the image looks nice doesn't mean it's ok to post on your listing. Here are a few cons of virtual staging.
1. Can Be Misleading
A potential buyer may see the photo and get excited about seeing the listing because of the furniture. Make sure to include a disclaimer or watermark to explicitly say that the photo has been virtually staged to avoid disappointment. You can print out copies of the virtually staged photos and leave them at the property. This way, any time someone views it, they can look at the photo and compare it in real life.
2. Can Look Fake
You'll want to use a professional who can make sure the proportions are right and the furniture and décor are as realistic as possible. As tempting as it may be to put some unique pieces of décor in the living room, you may want to hold off on it and use pieces that the majority of potential homebuyers will likely put in their homes.
The Bottom Line: Is Virtual Staging Worth It?
The answer is yes. Virtual staging is worth it because it is oftentimes the more cost-effective choice, gives you flexibility, and allows you to showcase the property especially with an increasing reliance on online marketing.
So when it comes to selling real estate, virtual home staging can help. And so can the Guidance Home Services real estate network. Get connected with pre-approved home buyers now.
Get Pre-Approved Referrals