First-Time Home Buying 101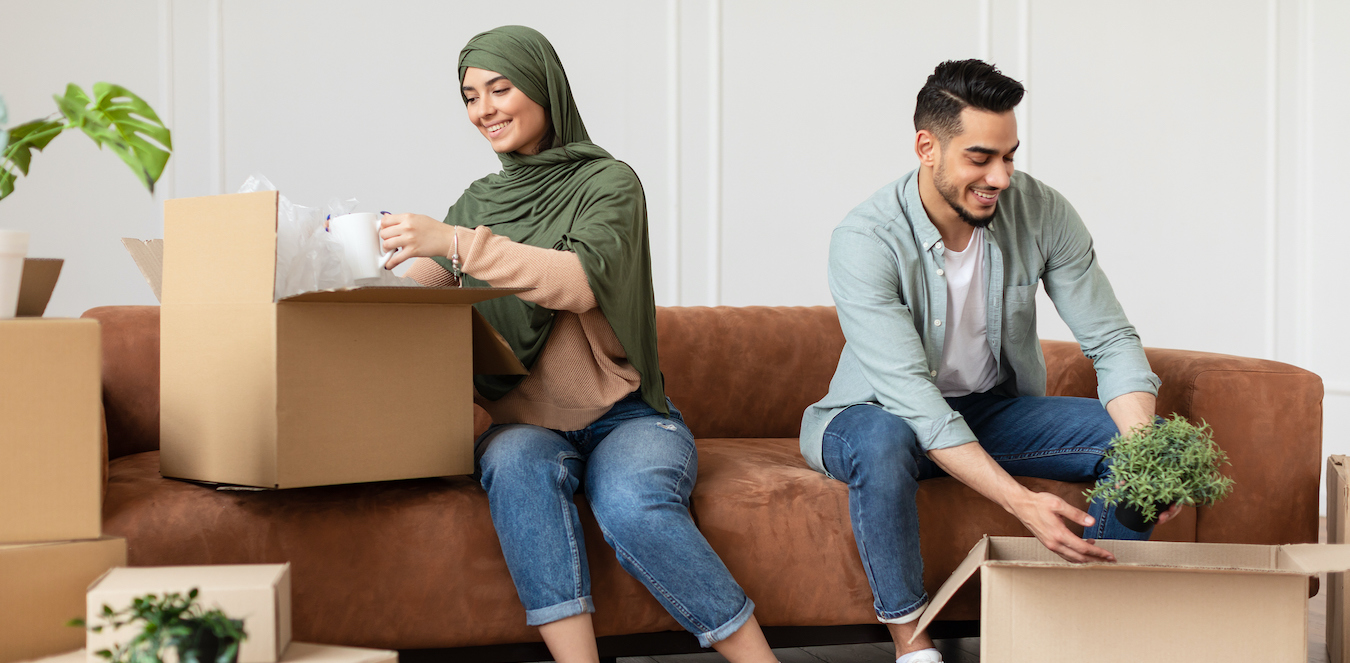 Buying a home—it's just three words, but it's a big deal in most people's lives. To navigate this journey as a first-time homebuyer, take it one step at a time. We've put together this first-time home buying 101 guide with tips to help you through the steps toward owning your first home.
How to Buy a Home for the First Time Step by Step
In this step-by-step guide, you'll find out what you need to know to successfully buy your first home, from beginning your search to closing the deal.
Before buying a house for the first time:
Buying a home is a big commitment. You're committing not only to a monthly payment but to a place where you want to spend at least the next several years. Make sure you're ready to take this step. You may want to consider taking a first-time homebuyer class and check out the first-time homebuyer programs by state.
Ask yourself these questions:
Do I have a stable income?
Is this a neighborhood I want to live in for at least five years?
Do I have emergency funds for expenses in the case of job loss as well as unexpected home maintenance and repairs?
If it's the right time and the right place, then now is the time for the right kind of preparation.
How to prepare
The first thing you will want to do is get your finances in order.
1. Save for a down payment
A down payment is the part of the home's price that you pay at the time of the purchase. If you can pay 20 percent, you will enjoy lower fees. Reach out to the financier you are considering and ask what options might be available to you.
2. Bolster your credit score
Your credit score is a number—generally between 300 and 850—that will be important for determining how much financing you will qualify for and the rate you will pay. That is the case even if you use Islamic financing because it gives the financier an idea of how you have handled financial obligations in the past.
Your credit score is compiled using factors such as the number of accounts you have open, how much money you owe, and whether you pay your bills on time.
When you're starting your home-buying journey, it's a good idea to find out where you stand with your credit score. You can check your score using sites such as Credit Karma or Credit Sesame.
If it needs some work, it's good to know early—that will give you time to raise your score. You can do this by making sure to pay all bills before they're due. If you find that you're late with a bill, pay it as soon as you can anyway. The later it is, the more it affects your score. Don't close any credit cards at this time, but don't apply for new ones. Those changes can have a negative impact.
3. Research financing options
Many people think financing comes after you find a home, but it's best to get pre-approved by a financier of your choice at the beginning. Decide what kind of financing is right for you. Do you want a traditional mortgage, or would you prefer an interest-free halal alternative? Financiers you are considering should be willing to answer all of your questions so you feel comfortable with your choice.
When pre-qualifying for a mortgage for the first time:
It's tempting to jump right into hunting for your home, but it's important to get pre-approved first. Pre-approval means you have completed your application for home financing and received a letter telling you how much the financier has offered to provide. Having this letter in hand allows you to move quickly when you find your dream home and raises your chance of having an offer accepted.
Getting pre-approved before beginning your search is important because it will help you identify a price range to look within. It also indicates to real estate agents and sellers that you are serious and ready to buy. Many real estate agents will not even show homes to someone who has not been pre-approved. Sellers may prioritize offers from pre-approved sellers since it means a faster sale, and they may be more willing to negotiate on the price.
It's faster for you too. When you come across a home you love, you are ready to make your offer. You won't have to stop and scramble around for documents at that time and risk losing the home. Especially in a hot housing market, a pre-approval gives you an advantage in getting your offer accepted.
What to do
During the pre-approval process, you will need to provide documents to demonstrate your income, assets, good credit, employment, and debts you may have.
1. Choose a financier
The type of financing you have chosen will help you narrow down your search for a financier. Make sure that you feel comfortable with this company and that their values reflect your own. Make sure they are responsive to any questions and concerns you may have.
2. Explore your options
Do you want a 15, 20, or 30-year contract? The longer the contract, the lower the payments, but a shorter contract will save you money in the long run. If you want to start with a 30-year contract but decide to pay it off sooner, you can refinance later or check if your financier allows extra payments.
3. Check for first-time homebuyer assistance programs or other specials
First-time home buyers may qualify for additional assistance, especially if they meet certain income requirements and have a strong credit score. In addition, financiers may periodically offer specials such as a credit toward closing costs. Ask your Account Executive if you may qualify for any assistance.
4. Complete your application
Applications can now be completed online, making the process more convenient. Make sure to provide all pages of all documentation required. After you've submitted your application, watch for questions and requests for additional documents that may be needed. This will speed up the process so you receive your response faster.
5. Get your pre-approval letter
After reviewing your application and your documents, your financier will give you a letter offering to provide a certain amount of financing under specific terms. Now you're ready to start looking for your home!
If you're not ready for Pre-Approval
It's possible to delay pre-approval and begin with a simpler pre-qualification, which provides a quick idea of the amount you might qualify for based on the numbers you input. However, in this case, the number is only an estimate. Once you find a home, you will need to become pre-approved and submit documentation to back up your numbers. Completing that step early in the process saves you critical time later on.
When shopping for a house for the first time:
As you start looking, you will want to find a real estate agent who will remain your partner throughout this journey. Your real estate agent will help you find and visit homes that meet your criteria. Once you find a home you love, they will assist you with making your offer, inspections, and then closing on your home.
How to start
1. Choose your real estate agent
Once you start working with a real estate agent, it is best to continue with that person, so it's wise to choose carefully at the beginning. If you are looking for a real estate agent, you can find one through Guidance Residential's sister company, Guidance Home Services. This company was created to help fill that need and connect home buyers with proven agents.
As a bonus, agents registered with Guidance Home Services understand the need for faith-friendly, interest-free financing.
2. Decide on your criteria for your home and neighborhood
There are several types of criteria to take into account.
Do you want a single-family home, a townhouse, or a condominium? Consider price, space, and convenience. A single-family home offers the most space and privacy, but also more maintenance. How much do you want to take on as a first-time buyer? Remember to take into consideration homeowners association fees and amenities in different neighborhoods.
How much work are you willing to put in to save money? You may be able to get a fixer-upper for a lower price, but it will require more time and money to get the home ready to live in.
How far do you want to be from work, shopping, schools, and other places that are important to you? What will your commute look like? After you identify a potential neighborhood, map out your commute and give it a try during rush hour.
Make a wish list and then look it over critically, identifying the elements your home must have. How many bedrooms and bathrooms do you need? Do you need a garage? A home office? This list will help you target your search.
Make another list of items your family would like to have. This list might include items that are not deal-breakers or could be added later, such as perhaps a pool or fenced yard.
Think about whether you plan to stay in this home long-term or move once your family's needs change. This may impact which items you prioritize on your wish list and which you can save for the future.
As you're searching, don't be too deterred by aspects like paint color, landscaping, or appliances that can be changed relatively easily. Pay most attention to the property itself and the "bones" of the home. These are much harder to change.
When making an offer on a house for the first time:
This is an exciting moment! Now that you've found a home you love and you've decided to make an offer on it, it's time for some decisions. You want to make an offer the seller will accept, but you don't want to pay more than necessary. You'll need to make a strategy quickly with your real estate agent.
What to consider
Making an offer on a home is not as simple as offering the price the seller asks for. You have the option of offering less, or in some circumstances, you even might want to offer even more than the asking price. Then there are contingencies to consider as well.
Here are the steps to take:
1. Research
First, you need to determine what is a fair price to pay for the home. Your real estate agent can analyze what similar homes in the area are selling for, known as market data "comps." This can offer a good starting point for consideration.
Then consider this: How hot is the housing market in your area? If demand is low and houses are sitting on the market, you may be able to offer a lower price. If demand is high and houses are selling quickly, you may have to offer close to the asking price or maybe even above to be competitive.
You might also ask your real estate agent if they know anything about how motivated the seller is. Knowing their situation can help you craft an attractive offer. If they have to move quickly for a new job, they may be more likely to accept lower offers. Perhaps the closing date is important to them—if they want to move quickly, they might like an offer with a quick closing date, while if they haven't found a new home yet, they might prefer a flexible closing date. An offer that suits the seller is more likely to be accepted.
Finally, consider the home's condition. If many repairs will be necessary, you may need to reduce your offer so you have money left to fix up the home.
Now that you have an idea of what price would be reasonable for the home, your agent will help you prepare the offer. If you have decided to offer less than the asking price, keep in mind that you don't want to make a "lowball" offer—an offer so low that it risks offending the seller. Work with your agent to make an offer that has a good chance of being accepted.
2. Consider contingencies
Contingencies are basically conditions that must be met for the sale to go through. These clauses are written into your contract, allowing you to walk away from a sale without losing your earnest money (a type of security deposit) if the house does not meet certain criteria.
The most common contingency buyers include is the home inspections, so that if the home fails any major part of the inspection, then you are not bound by the contract you have submitted as your offer.
Other common contingencies include an appraisal, financing, and title. The more contingencies, the less attractive your offer, so seek your real estate agent's advice and consider it carefully.
3. Decide on earnest money
Earnest money is a deposit that you submit with your offer. It will be held in escrow (an arrangement for a third party to hold it temporarily) and later applied to your down payment. If your offer is not accepted, the money will be returned to you. If your offer is accepted and you later cancel it without a justification related to a contingency, you will lose this earnest money.
The escrow amount is typically one percent to two percent of the total home price. A higher escrow may be more appealing to the seller because it shows that you are ready and serious about buying the home.
4. Making your offer more attractive
If you're in a hot housing market and you've had your heart broken a few times by sellers choosing a different buyer for their home, you may want to adjust your strategy. One possible way to make your offer more competitive is to include an escalation clause, which raises your offer by a certain amount over other offers. (For example, you might offer $5,000 more than other contracts the seller receives, up to a maximum price you set.)
In some circumstances, your real estate agent might even recommend that you include a simple letter with your offer, explaining what the home means to you. Some sellers may take these factors into consideration.
5. Write your offer letter
Your real estate agent will write your offer letter for you. It will include information including the following:
The name of everyone who will be on the title
The amount of money you want to offer
Any contingencies or other concessions you want to ask for
The amount of your earnest money deposit
Your pre-approval letter
The date you expect to close on the home
The date you want to move in
A deadline for the seller to respond to your offer
Then the waiting begins.
6. Negotiate after a response
The seller can respond to your offer in one of three ways:
They can accept the offer. In this case, take a moment to celebrate and move on with inspections!
They can reject the offer. You may choose to submit another offer if the home is still available, or you can continue your search.
They may make a counter-offer with a proposed change to the price or other terms. You can accept the counter-offer, reject it, or make another counter-offer yourself.
Your real estate agent will guide you through any negotiations.
When closing on a house for the first time:
Once your offer is accepted, a flurry of activity begins, leading up to your closing day—the day when ownership of the home is transferred to you.
Get an appraisal
After the seller accepts your contract, your real estate agent will arrange for an appraisal to verify the value of the home. Financiers require this step to ensure that they are not financing an amount that is more than the house is worth.
Get a home inspection
Your agent also will arrange for a thorough home inspection. The inspector will examine the home inside and out and from top to bottom, checking aspects such as the roof, plumbing, HVAC, drainage, and much more. The inspector will provide you with a report that includes recommendations on any repairs that should be made before closing.
Ask for repairs or credits
After you see the report on your home inspection, you will need to consider any problems that the inspector found. If problems were discovered, you may choose to go ahead with the purchase, ask the seller to make repairs or credits, or cancel the contract.
If you decide to ask the seller to address problems, you can request a discounted price, ask the seller to give you credits to cover some of your closing costs or ask the seller to repair the problems.
Your agent will transmit your request to the seller's agent. If the seller rejects your request, you will need to choose whether to proceed with the sale or to walk away based on the inspection contingency you have likely included in your offer.
Conduct a final walk-through
Before closing day, you should take one last walk through the property to ensure that any repairs have been made, the seller's items have been removed, and the home has been left in the condition expected. This is your chance to double-check anything on the property one last time.
Closing day
Finally, after a month or two of preparation, it is closing day! You will attend a meeting with people including your real estate agent and the seller's agent. You'll need to bring your ID and proof of homeowners insurance (which your agent will help you obtain).
You will also need to bring funds for the closing costs, which include the down payment and other costs associated with the purchase of a home. A personal check is typically not accepted. You will need certified funding such as a cashier's check from your bank, a certified check, or money order.
After you sign a large stack of papers, the home is yours! You will leave this meeting with new joys, responsibilities, and the key to your new home. Congratulations!
Conclusion: The Best Way to Buy a House for the First Time
Buying a home is a long journey, but you don't have to make it on your own. Your real estate agent and your Account Executive at your home financing company are your partners along the way.
At Guidance Residential, we wish you all the best on this exciting journey, and we are here to help. Whether you're looking for estimates using our online calculators, to choosing an agent through Guidance Home Services, to speaking with your Account Executive one-on-one with any questions you may have—we will walk with you every step along the way.
Pre-qualify for home financing online in fewer than 10 minutes. Start today!
Originally published August 2020, updated November 2021.
Start Your Home Buying Process