Buying a House in Virginia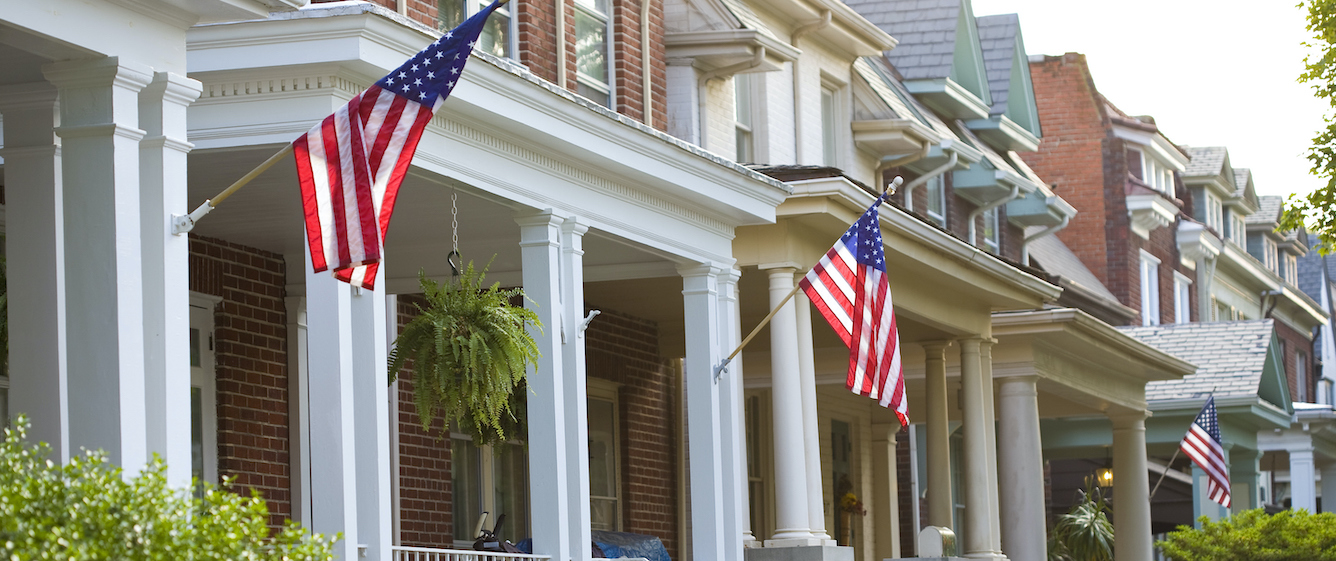 House prices rise and fall, but no matter what the market does, one thing remains the same—a home is a necessity.
Soaring prices in recent years have made it harder for the average family to buy a home in Virginia and around the country. Experts are predicting that this bubble will burst eventually, as all bubbles do. The housing market will cool, and home prices will become more affordable.
Some buyers are concerned about buying a home and seeing the value drop. But for those looking at what is right for their family with an eye toward the long term, a home purchase can be the right move anyway. One reason is that prices historically trend upward, so they can be expected to rise again. But the more fundamental reason is that a home is not at its heart an investment, and experts caution against looking at it that way. Life changes—not market events—largely dictate the need to buy or sell a home, which makes it less than ideal as an investment.
If a home is not an investment, then, what is it? It is, simply put, a place to live, and that is always a necessity. When it is time to settle down or move on, research and planning are keys to success. Below are some ingredients to a successful home purchase in Virginia.
>> Related Read – Housing Market Predictions for 2023 + The Next 5 Years
How to Buy a House in Virginia in 9 Steps
The housing market in Virginia has seen many changes in a short time due to the Covid-19 pandemic and its aftermath. What is a buyer to do amid this flux? As in any season, take it one step at a time. Here are 9 steps toward buying a home in Virginia after the pandemic.
Step 1. Evaluate Your Finances
Some things never change, and this is one of them: The first step toward buying a home is to take a good look at your finances. This essential step will help you focus your search on homes that are within your budget and prevent delays and disappointments down the road.
What Credit Score Do You Need to Buy a House in Virginia?
Your home financing provider will need to check your credit score as part of the approval process. Your credit score is calculated based on your history of handling debt. Credit scores range from a very poor 350 to an excellent score of 850.
Typically, a credit score of at least 620 can get you approved. A score in the "good" category—above 670—will give you more options and better rates. The higher your score, the better, so protect your credit score by making payments on time.
How Much Money Do I Need to Buy a House in Virginia?
How much money it takes to buy a home in Virginia depends on what part of the state you're looking at. Home prices vary widely by region, climbing highest in Northern Virginia close to D.C. Throughout the state, the typical home price was just over $380,000 as of October 2022. In Northern Virginia, however, the median sale price is nearly $550,000.
When you go to purchase a home, you will need a percent of the sale price in cash as a down payment. The ideal down payment would be at least 20% of the price of the home, but lower down payments can work as well. Some programs available for first-time home buyers require as little as 5% or even 3% down. The bigger the down payment, however, the lower your costs may be in the long run.
Speak with your home financing provider about the options available to you.
>> Related Read – Is It Better to Put a Large Down Payment on a House?
Step 2. Explore Your Home Financing Options
Many people assume that a conventional mortgage from a bank is their only option when buying a home, but many other options exist now.
One consideration is where to turn for financing. Buyers can still apply for a mortgage loan at a bank, but many non-bank mortgage financiers now offer this service as well. This provides more choices than in the past.
With the proliferation of different financing providers comes more options for types of financing to choose from. A traditional mortgage is essentially a loan that the buyer will repay along with interest. While conventional mortgages are still common, hidden risks remain in conventional and FHA home loans. This is one reason that alternative types of financing are growing in popularity, including forms of interest-free home financing that are based on a different approach that is more equitable for home buyers.
One fast-growing alternative to a traditional mortgage is Islamic home financing, sometimes called an Islamic mortgage. The biggest difference between an Islamic mortgage and a conventional mortgage is that Islamic home financing isn't actually a mortgage at all. Islamic home financing is based on an entirely different foundation.
The predominant model of Islamic home financing is a co-ownership arrangement in which the homebuyer and the financier buy a home together. The homeowner will then gradually buy out the financier's share while paying a fee to use the entire property. The homeowner maintains full rights to use and sell the home. This approach allows certain risks to be shared between the homeowner and the financier, while the homeowner retains all profits when the home is sold.
This co-ownership approach appeals to Muslims whose faith prohibits the use of interest, or riba, as well as others who are drawn to this more equitable partnership rather than a lender-borrower arrangement.
>> Related Read – Do You Have to Be Muslim to Get a Riba (Interest) Free Mortgage?
Step 3. Get Pre-Approved for a Mortgage
Before you begin looking at houses, it's important to get pre-approved for financing.
Many first-time buyers wonder if they should get pre-qualified or pre-approved, as the terms sound similar.
A quick pre-qualification is one way to start estimating what price range to consider when you're just starting out. You can pre-qualify online by supplying estimates of your income and major expenses. You will receive your result in just a few minutes.
Better than pre-qualifying, however, is pre-approval. After providing documentation to be evaluated, you will receive a letter from your financier pre-approving you for financing. This letter tells you how much they are able to provide you to finance your home as well as what mortgage rate they are offering you.
There are many reasons to get pre-approved for a mortgage. A pre-approval letter shows sellers and real estate agents that you are serious. Many real estate agents require a pre-approval letter to show you homes. If you find a home that you want to make an offer on, pre-approval also shows the seller that you have financing lined up, and that makes them more likely to accept your offer. Finally, pre-approval prevents delays that can cost you the home you have chosen.
When you are ready to take this step, you'll need to gather some documents and check your credit score. Here are five things to do before getting pre-approved for a mortgage.
>> Related Read – How Long Does a Pre-Approval Take? A Case Study
Step 4. Find a Real Estate Agent in Virginia
Now that you've got a plan for financing your home, it's time to find a real estate agent. This person will be your partner and guide throughout the process of buying your home. They will also negotiate on your behalf, representing you in communications with the seller, and they'll make many arrangements such as inspections for your prospective new home. It's important to choose an experienced agent who you trust and feel comfortable with.
Your agent should be knowledgeable about Virginia's housing market and deeply familiar with the particular region and neighborhood where you are looking to buy a home. This way they can offer the most useful and accurate guidance. It's also helpful if they know of other qualified local professionals such as a good home inspector.
Don't be afraid to ask a real estate agent questions like how long they have been working in the local area. They should also be happy to provide you with references you can call to learn more about the experience others have had with them. Take your time when choosing an agent, as this person will have a major impact on your home-buying experience.
>> Related Read – Recruiting a Real Estate Agent? 5 Questions to Ask
Step 5. Select the Right Location
Many factors vary between and within states with regard to home sales. Virginia laws are less strict in some aspects than some other states with regard to home sales. Home insurance is not required by law in Virginia, although most mortgage lenders will require it.
Virginia also requires little in the way of disclosures from sellers: They have to do little more than alert buyers that it's their responsibility to check out the property's condition. This means a thorough home inspection is especially important here, to check for issues like structural problems, the condition of major home systems like electrical and plumbing, and for mold, which is a health hazard. Buyers typically make their offer contingent on the home passing inspection.
When choosing a neighborhood to look for a home in, there are many factors to consider, such as local culture; accessibility to work, entertainment or travel; and even taxes, which can vary from county to county.
The median property tax in Virginia is $1,862 per year for a home worth $252,600. Property taxes range from a high of 0.94% in Falls Church City—for an average of over $6,000 per year—down to 0.46% in Buchanan County, a mere $284 per year on average. Some neighborhoods may have state, county, and city taxes. Make sure to pay attention to property taxes on a home you are considering.
What Are the Best Places to Live in Virginia?
The best place to live depends on your priorities and your lifestyle.
For active young couples, Arlington and Alexandria are popular choices. There's plenty to do, and lots of history and culture to enjoy, and D.C. is nearby offering even more options. The culture varies between the cities despite their close proximity: Arlington boasts major military memorials, while Alexandria offers a more artsy vibe. Housing prices are high in both cities, however, so they may be best suited for dual-income families.
Moving further from D.C., Vienna and Falls Church are well-established and diverse neighborhoods, though still on the expensive side.
Continuing east, Reston prides itself on walkability, culture, and arts, while further out, Ashburn offers more space for the housing budget for growing families. Western Loudoun boasts bucolic farms, wineries, and scenes of rolling hills beyond.
Moving south, Centerville offers both history and accessibility combined with reasonable property prices. Charlottesville and Blacksburg are college towns with a spark of the vibrance of youth yet appealing to families.
Along the coast, Virginia Beach and Chesapeake both benefit from home prices that are lower than average with lots of outdoor activities to enjoy.
For families that prefer a more rural lifestyle, small gems abound throughout the rest of the state, such as Abingdon in the southwest of the state with low housing prices and mile after mile of scenic trails.
>> Related Read – How Do I Know If A Neighborhood Is Safe? 4 Ways to Check
Step 6. Begin House Hunting in Virginia
The best time to begin house hunting in Virginia is when you are ready. Start keeping an eye on listings and attending open houses to get a feel for different neighborhoods and home prices.
Many families start house hunting more seriously in the spring so they can close in the summer and avoid disrupting their children's school year. If you are not limited by this constraint, you can find lower prices at other times of the year. List prices in recent years have been lowest in the winter, especially in January, when they have dipped more than $40,000 below average.
>> Related Read – How to Find Houses Before They Hit the Market
Step 7. Make an Offer (and Get It Accepted)
Once you have found a home you love, it's time to make an offer. Your real estate agent – who should research what similar homes have sold for in that neighborhood – will help you decide on a good offer for the home. You can offer the price the seller is asking, or you may choose to make a lower or even higher offer.
When deciding on your offer, consider the home's condition, any renovations, and how long it has been on the market. If it's been sitting for weeks or months, you may be able to lower your offer. If you think many home buyers will be competing against you for the home, you may want to raise your offer for a better chance of having it accepted, but make sure to stay within the budget you have set.
Your real estate agent will also discuss with you other factors to consider, such as contingencies. Do you want your offer to be contingent on the home passing inspection? Usually the answer is yes, although in particularly hot markets, some buyers have dropped that contingency. Other possible contingencies could allow the buyer to walk away if there are problems with the appraisal, financing, title, or the sale of their current home. Contingencies make the offer less attractive to the seller, so consider carefully what is most important to you.
You will also need to decide how much earnest money you are offering to put down. Earnest money is a deposit that the buyer forfeits if they back out of the deal for reasons that are not covered in the contingencies. This is typically 1% to 2% of the purchase price and it comes from your down payment.
Once you've decided on your offer, your real estate agent will write up the proposed contract and send it over. Then you wait for their response.
>> Related Read – Can You Make an Offer Without a Pre-Approval Letter?
Step 8. Obtain a Home Inspection and Appraisal
Once your offer is accepted, a flurry of activity begins.
Your real estate agent will arrange for a home inspection to examine the house carefully from roof to foundation. They'll check for structural issues and evaluate important systems such as electrical, HVAC and plumbing. They'll also inspect outside to check issues such as the grading of the property to make sure water won't gather and seep into your home.
You'll need a separate septic inspection if the home has a septic system, and your agent will arrange for an appraisal to check the home's value. All of these inspections are typically done at the buyer's expense, but they can save huge amounts of money and headaches later.
If the home inspector notes major concerns, you'll need to talk with your real estate agent about whether to ask the seller to make any repairs or reduce the price. If the concerns are too serious for you to accept and negotiations with the seller don't result in a solution, you can walk away from the contract and your earnest money should be returned.
>> Related Read – What Not to Do Before & When Buying a House
Step 9. Close on Your Virginia Home
Once all the inspections are over, congratulations! It's time to look ahead to closing.
On closing day, you, your agent, possibly your financier, and maybe the seller's agent will gather to sign papers and transfer ownership of the home to you.
You'll need to bring your down payment plus closing costs, which cover a variety of fees, including the inspections you've just done. Virginia closing costs include the home inspection, home appraisal, lender or financier fees, title insurance, title service, real estate transfer tax, and more.
Typical closing costs in Virginia are around 2% to 3% of the home's value, but they could potentially run as high as 7%. Ask your real estate agent what to expect.
>> Related Read – Ultimate Moving Guide + Moving Across-Country Checklist
The Bottom Line: Buying a House in Virginia Is Easier with Our Help
This is all a lot to keep in mind, especially for a first-time home buyer. Fortunately, you don't have to do it alone. Choosing the right team of experts to help can make the process much smoother and easier.
Guidance Residential, the #1 provider of Islamic home financing in America, can help Virginia home buyers with financing that aligns with their values, as well as with finding an expert local real estate agent, thanks to Guidance Home Services.
Ready to take the next step on your homebuying journey? Get pre-qualified online in fewer than 10 minutes, and let Guidance Residential connect you with a knowledgeable and reliable real estate agent in Virginia to ensure your home-buying experience goes smoothly. 
Start Your Home Buying Process