Guidance Gives Back: Financing Homes, Building Communities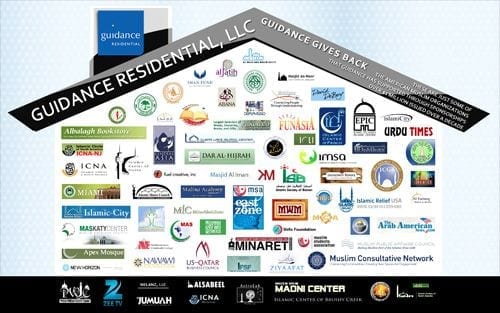 A Decade in Support of Strengthening the American Muslim Community.
Since our inception in 2002, Guidance Residential has contributed over $1 million to various organizations, companies, projects and people both within and outside of the American Muslim community.
Our sponsorship recipients include masajids (mosques), Islamic schools, national organizations, advocacy organizations, educational forums, media outlets and more. In short, when we provide, we provide to the community as a whole. When so many finance companies are conjuring up clever ways of taking money from homeowners through fees that are only found in fine print, you might be wondering why giving back to the community is so important to Guidance Residential.
As a financial institution, we shoulder a great amount of responsibility to the community of homeowners we serve. Our philosophy encompasses more than just adherence to our moral and ethical business values but also a commitment to community. Without our clients and the communities in which they live, we would be nothing. What is placed in us is a wealth of trust and confidence that we strive to be worthy of with each day of operations. Guidance Residential looks at the far-reaching effects and benefits of home financing for Muslims from a holistic perspective. What does this mean? Well, for starters it means that we're not fixated on grossly enlarged profit margins and popularity – we are poised to place an emphasis on things of a higher value. In addition to building a stronger and self-sustaining community through increased homeownership, we would like to provide meaningful support in areas beyond home financing for Muslims. Our practice has always engendered the most generous humanitarian principles and to this day, we're a much stronger, much more successful and spiritually wealthier organization because of it.
It is our belief and understanding that the value of alms or charity depreciates with publicity and vaunt. When one gives, it is sometimes wise to do so silently because every man and woman deserves the honor of dignity even in his or her most dire time of need. What we express to you now isn't an attempt to broadcast or showboat the investments we've made in the communities of which we're a part, but it is a sincere hope that we are able to influence the hearts, minds and wallets of those within our industry to be more generous. Why do we refer to them as investments? Because we're doing more than just simply sponsoring an activity or event, we are investing in communities and the livelihoods of each member of each organization that works to support those communities. We're investing in their ability to provide for themselves and to go on to provide for their families and their communities. We're committed to being part of a full circle of support because this is what we believe in and what we acknowledge as the right way to live.
By way of partnership, Guidance provides home financing for Muslims who dream for home ownership. By way of sponsorship, we support those non-profit organizations that work tirelessly to help strengthen the community and assist those less fortunate. Ultimately, we not only maintain a strong focus on serving the community with modern financial products that are guided by timeless values, we insist on making a positive impact on society.
Here is a small sample of the organizations we've given sponsorships to:

Start Your Home Buying Process