Is It Better to Rent or Buy Right Now?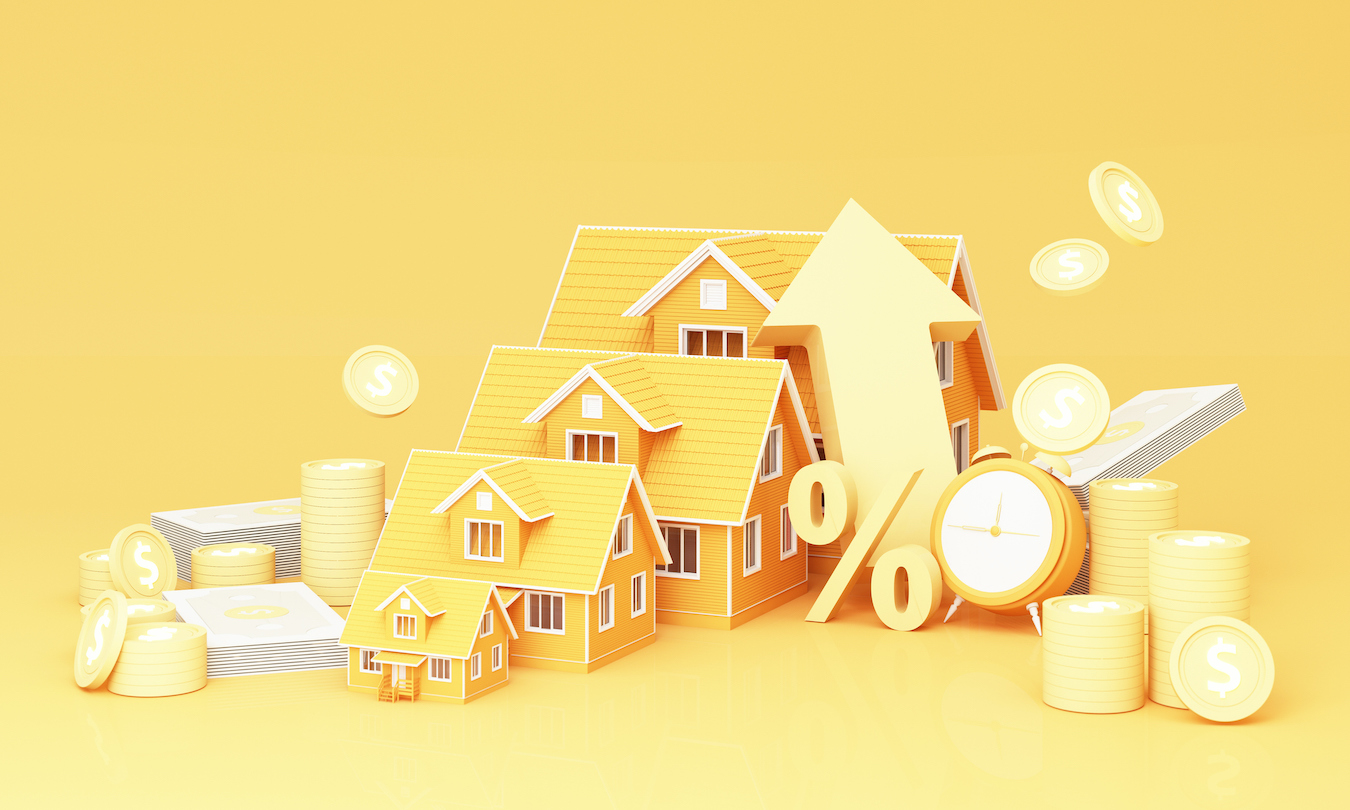 For most people, part of the American dream is purchasing their perfect dream home. Whether it's the white picket fence house in the suburbs or a chic condo in an urban high-rise, almost everyone aspires to own their own home—the question is when to take the plunge and make that big purchase.
The current housing market is making a lot of people rethink whether it's better to rent or buy right now. There are pros and cons to both renting and buying, and because the answer ultimately comes down to your personal finances, lifestyle, and goals, there's no one-size-fits-all advice that works for everyone.
Buying a home is one of the biggest financial commitments you can make. Is now the right time for you or are you better off waiting? Here's what you need to consider.
Is It Better to Rent or Buy a Home in 2022?
Depending on who you ask, the economy is either slowly improving or inflation is steadily getting worse, but one thing is for certain: interest rates are up and that has changed the game when it comes to home buying.
Higher interest rates have slowed what was once a white-hot housing market. For conventional borrowers, the increased interest rates make the benefits of the cooler housing market a wash—they may get a better deal on a house and have less competition, but the increased interest rates offset that.
But because price increases have slowed and there are plenty of houses on the market to choose from, now may be the time for you to purchase a home. This is especially true if you plan on staying in your home for a long time; over time, your monthly payments will become more affordable as your income increases.
However, if you're not planning on staying in your home for more than a few years, or you think there's a chance you may lose your job, then renting might be the better option for you. With renting, you have the flexibility to move if your circumstances change and you don't have to worry about selling your home in a buyers' market.
Of course, there are risks involved with renting and buying. You need to weigh the pros and cons before making a decision on whether it's better to rent or buy right now, and also keep in mind other things to research before buying a house.
Rent vs. Buy a Home: How to Make a Smart Decision
Making the decision to rent or buy a home is a big one, and there's no easy answer as to which is best for you if you're unsure. You need to consider your financial situation, your job security, your lifestyle, and your plans for the future.
If you have a good income and you're confident you'll be able to keep up with your financing payments, buying a home could be a great investment. On the other hand, if you don't have a lot of money saved up and you're worried about job security, then renting could be the smartest decision given your current life circumstances.
There are also lifestyle factors to consider. If you like the idea of being able to move around easily and you don't want the responsibility of caring for a property, renting might be the way to go. On the other hand, if you're looking for a place to call your own and you're willing to put in the work to maintain it, buying a home could be the right choice for you.
The Consumer Financial Protection Bureau recommends the following steps if you think you want to start the process of purchasing a home:
Check your credit
Audit your spending and think about how adding home payments and related expenses will impact that
Determine how much you can afford for a down payment
Decide how much you want to spend on a home
Build a network of advisors
Once you've taken these steps, you're in a good position to make a smart decision about whether now is the right time for you to become a homeowner. Our rent vs. buy calculator can help, too!
Renting vs. Buying a House: Pros and Cons
While it's good news that higher interest rates have put a damper on out-of-control home prices and bidding wars, there's still a lot of volatility in today's economy. It's a good idea to take the time to weigh the pros and cons of renting a home vs. buying one before making a decision.
Indeed, rental prices are also increasing rapidly—it's not always true that renting is cheaper than buying, particularly in large metro areas in the Midwest and South that have experienced more modest increases in home prices during the recent housing boom.
When Is Renting a House Better than Buying?
Even if your ultimate goal is to purchase a home, you might decide that right now, renting a house is best for your financial circumstances or the housing market you live in. There are a number of reasons why renting may be right for you at this time in your life.
Pros of Renting a Home
Here are some of the benefits of renting a home or apartment:
You have the flexibility to move if your circumstances change.
If you're early in your career, you may appreciate the flexibility of renting if you anticipate that your job may take you to another area of the country—or you expect steady increases in pay that would allow you to afford a larger home in the near future. You'll also have the advantage of trying a neighborhood before you buy.
In some cases, your monthly payments will be lower than if you were buying a home.
Again, this isn't always the case, but in metro areas with skyrocketing housing prices like Austin, San Francisco, and New York City, renting—while expensive—is still cheaper than buying a home. Look at price-to-rent ratios before making a decision.
You don't have to worry about maintenance or repairs.
From shoveling the driveway when it snows to cleaning the gutters and replacing broken appliances, there's a lot involved in maintaining a home. When you rent, you don't have to do any of those things yourself, you don't have to find someone else to do them, and you don't have to pay for them either—it's all taken care of for you.
You may have access to amenities.
Apartment living in many metro areas comes with a lot of benefits, ranging from rooftop pools to concierge service and fully equipped on-site gyms.
There are no property taxes—and you may save on other fees, too.
Not having to pay property taxes on your home can represent significant savings if you live in an area with high taxes, and when you rent you'll have no homeowners' insurance costs, no HOA fees to worry about, and your landlord may even cover your utilities.
Cons of Buying a Home
These disadvantages of buying a home may also be reasons you might decide to rent:
You're more tied down than you would be in a rental.
Selling a home takes a lot more time, effort, and expense than ending a lease. A general rule of thumb is that you won't break even on selling a house until you've owned it for about five years.
You'll need to have a down payment.
For many potential home buyers, this is the biggest hurdle they face in purchasing a home. Even coming up with less than the standard 20 percent can be an obstacle, particularly for those already paying high rental costs each month.
You could end up losing money if you have to sell your home in a down market.
No home buyers make a purchase believing they're in the midst of a housing bubble, but unfortunately, you never know until it's time to sell. If your property value goes down, you'll lose on your investment.
Prices may still be inflated in some markets.
While increased interest rates have cooled the housing market, that's not to say that housing prices have gone down! There are still some parts of the country where housing prices are likely to be inflated. If that's the case for the area where you want to live, you might want to rent for a while and see if the market cools down a bit more before buying. Also, consider the season; even waiting a few months may mean lower prices.
When Is Buying a House Better than Renting?
Now that we've gone over the argument for renting a home, let's talk about when you might be better off buying.
Pros of Buying a Home
Consider these benefits of buying a home:
If you plan on staying in your home for a long time, you'll build up equity.
Americans build wealth and gain security through homeownership. Instead of giving money to a landlord and never seeing it again, you'll be putting money towards owning your home free and clear.
If you buy a home in a good location, it will increase in value.
This means you'll be making money every year you stay in your home.
You can make money by renting your home.
If your circumstances change and you do have to move, you can rent your home for more than your mortgage payment and make money every month while still retaining your property and growing your equity.
You'll have more stability.
The flipside of renters enjoying more flexibility is that buying a home introduces more stability into your life because you can't move on a whim. Being in one place deepens your ties to the community, fosters connections with neighbors, and can even be great for business networking.
Cons of Renting a Home
These arguments against renting should also be taken into consideration when making your decision:
Your landlord could sell the property, which would force you to move.
While you're unlikely to face this issue if you're renting an apartment, if you're renting a house, condo, or townhome, there's always the possibility that you could have to leave when your lease is up if your landlord decides to sell the property.
Renters don't have the freedom to make changes to a rental property.
If you're itching to paint walls, put in new flooring, or renovate a kitchen to make it your own, you're unlikely to be able to do this as a renter. (And, if you can, you won't reap any of the financial rewards of your investment!)
Your monthly payments could go up if your landlord decides to raise the rent.
Rent prices were up 23 percent nationwide in the second quarter of 2022 compared to the same period in 2019. Even if a mortgage would cost you more than renting today, that might not be the case next year or five years from now. (See where your city ranks in the best and worst places to rent in America.)
The Bottom Line: Should I Buy a House or Rent an Apartment?
The answer to this question depends on your individual circumstances and the current housing market where you live.
Renters have the benefit of flexibility and the peace of mind knowing if something goes wrong in their home, they're not responsible for fixing it. On the other hand, homeowners build their wealth over the years and have the freedom to decorate and make changes to their homes.
Ultimately, there's no right or wrong answer, and the best way to make a decision is to dig deep and define your goals at this time in your life. Come up with a list of your own renting vs. buying a house pros and cons based on your values.
Check out our helpful rent vs. buy calculator designed to assist you in comparing the expenses related to renting and buying.
Start Your Home Buying Process