Multigenerational living: Grow old along with me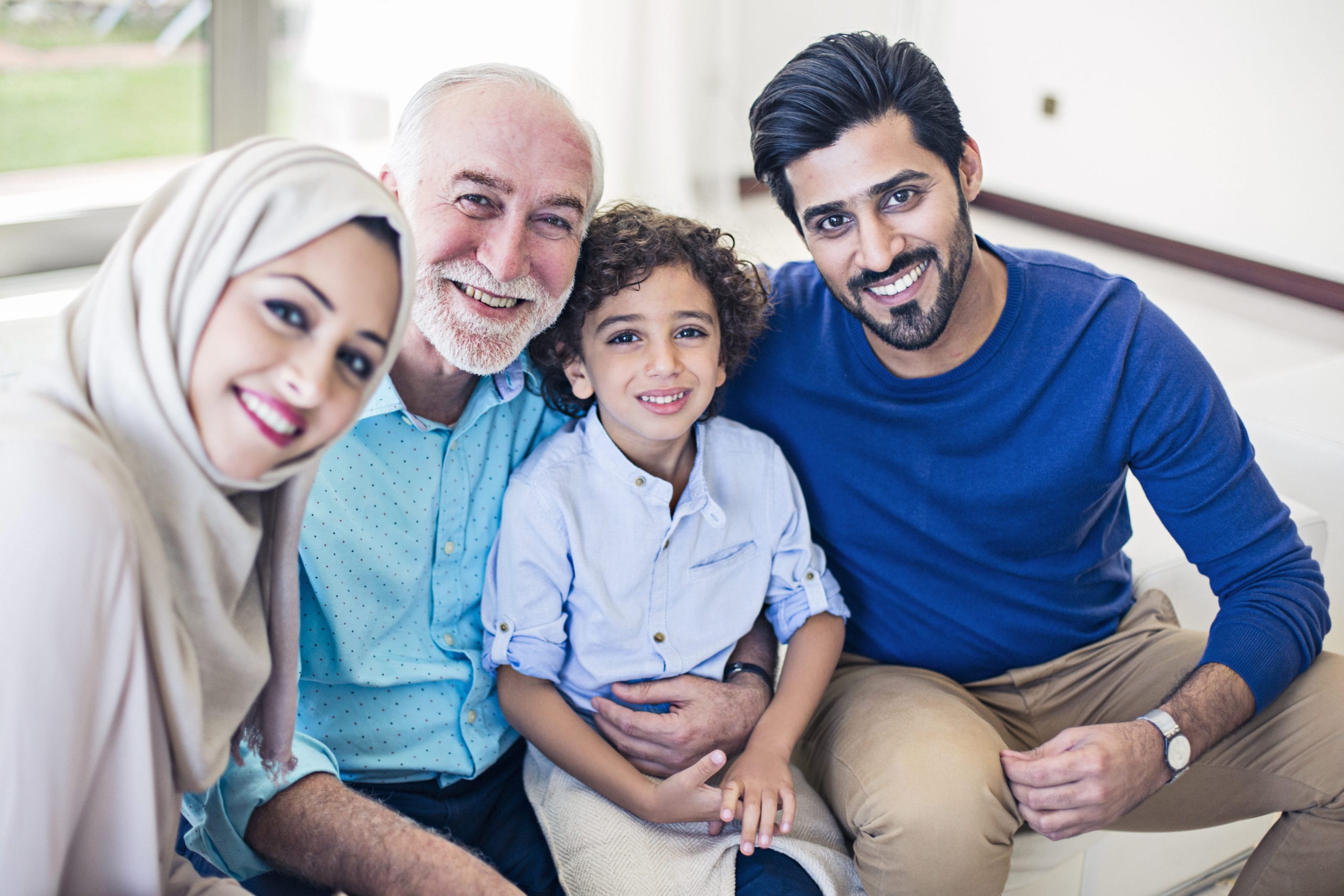 In a time when family ties are often weakened, many American Muslim homebuyers still want to stay close to family. Sometimes "close" can even mean right down the hall in the same house.
Often it's young parents who want their children to grow up near grandparents, hearing stories from the old days and passing down culture, language, and values. Another reason is to allow young adults to look out for their parents as they grow older. One study found that healthy people of varying ages actually live longer in multigenerational households. There are financial benefits too: Sharing resources can enable an extended family to buy a bigger house in a nicer neighborhood. And extra caregivers around to watch the kids can relieve financial pressure while bringing joy to both the oldest and youngest in the house.
Salman Ali, Guidance Residential's Mid-Atlantic Regional Manager, can speak from experience about how multigenerational living can work, because this is the arrangement his family has chosen. It's about getting back to the teachings of the Islamic faith, he said.
"When we were infants and we couldn't change our own diapers or eat our own food, our parents were patient with us," he said. He felt that it was important to give back.
Multigenerational living has actually been on the rise in America in recent years. According to the most recent Pew research, the number of families living in multigenerational households rose 30% from 2007 to 2014 – a huge increase in just seven years. It's not just new college graduates anymore—one-third of people 25-29 live in these extended households. The number has been on the rise across racial groups, partly spurred by tough economic times. But the trend also has been driven in part by immigrants, who often come from communities where closer ties are the norm.
But how do different generations combine households while meeting everyone's needs and maintaining personal space? That's a question many customers wrestle with, and there's more than one solution.
For some families, the solution is to buy homes close to family members. For others, like Guidance's Ali, that's not enough—they want to live under one roof.
The most obvious challenge is to find the right home. Some families look for a house with a main-floor master bedroom for the grandparents to use while the parents and children stake out space upstairs. A walk-out basement converted to an in-law suite could be an ideal option.
Modifications also can help smooth the way, like eliminating raised thresholds and installing walk-in bathtubs. Some families choose to build a full custom addition onto an existing home. Some builders are even taking notice and offering floor plans that incorporate space for a private apartment.
Ali insisted that his parents take the spacious master suite in their home as a matter of principle and respect. While some families want separate spaces for privacy's sake, in Ali's home, that big separate suite represents the opposite—it gives the grandparents a living area where the rest of the family can visit them after dinner.
"They don't feel like they're alone—they get that attention," he said.
Finding the right home is just the first hurdle. Financial advisors recommend talking through all of the details ahead of time, such as who will pay which expenses and take care of which responsibilities. Make sure everyone agrees which spaces are shared and which can serve as private retreats for each person or group. The kitchen can be an especially difficult space to share. Who will cook for whom? Who will clean it and when? Will everyone eat together?
These conversations aren't over after you move in—plan to hold family meetings on a set schedule to resolve issues as they arise, so they don't fester and cause resentment. Clear expectations and regular communication are keys to success.
While you're ironing out the sticky subjects, though, don't forget to take advantage of the great benefits too. Start traditions to enjoy each other's company. Grab the calendar and set time aside for special events—family outings, game nights, maybe some old-time movies with special treats.
If you're looking to set up a multigenerational home, Ali recommends asking your Realtor to help you search. He said, "Make your needs and requirements crystal clear to your real estate agent—'We need an in-law suite or we need a bedroom and full bathroom on the ground level'—and then the agent can narrow down that search to exactly what you're looking for."
"I don't think it's difficult," he added. "I'm a big believer that if you're good, you'll find good. If you have these good intentions, you'll find it. It might take a little bit longer, but there are things out there that can really accommodate."
Your Guidance Residential Account Executive is here to help with any questions. Looking to refinance or purchase? Rates have dropped to historic lows! Have a friend or family member who is looking for a home? Call 1.866.Guidance, or start an application today.
Have friends or family members that may be in need of down payment assistance, check out our down payment assistance for qualified buyers.
Start Your Home Buying Process