New set of online calculators puts answers at your fingertips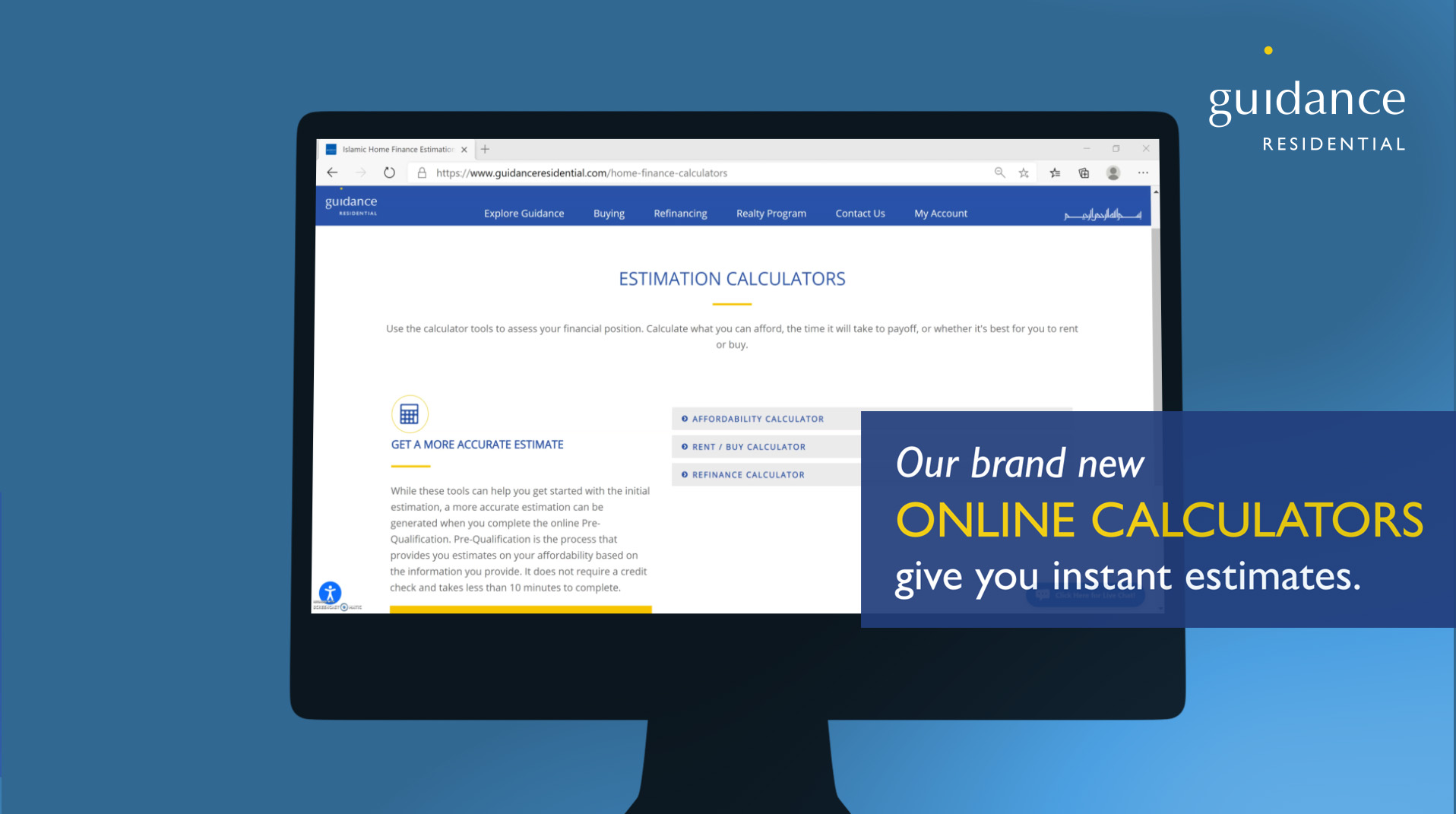 At Guidance Residential, we are so excited to bring you our updated estimation calculators! This new set of tools on our website puts all kinds of answers right at your fingertips.
In seconds, you can estimate how much house you can afford, weigh the costs of renting vs. buying, and find out if you might be able to save money by refinancing. All of these tools access rates, updated daily.
Here's a look at what you can do:
With the affordability calculator, you can input your income, monthly expenses, and expected down payment, and see the price range you might be able to afford in a home. Then you can easily compare how that number changes if you adjust the variables.
The rent/buy calculator compares major costs and opportunities of both renting and buying given the choices you select. The results can help you consider which choice is best for you right now.
And finally, the refinance calculator allows you to see how your home payments could change if you were to refinance at today's rates. You can compare your monthly payments and total payments under a new 15- or 30-year contract.
The more information you have, the better foundation you have to discuss your options and make choices. That's why we're so excited to bring you these new tools that are free, quick, and simple to use. They're a great place to start for an immediate initial idea of your options at any time.
We know you're busy, so Guidance Residential also offers a variety of other tools you can access at your convenience online:
Pre-Qualification: This optional step provides you with a more in-depth and accurate estimation on your affordability based on the information you provide. It does not require a credit check and takes less than 10 minutes to complete.
Pre-Approval: When you're ready to think about starting to look for a new home or to refinance an existing home, Pre-Approval is what you need. Upload your documentation at your convenience online, and we'll expedite your results.
More information is available in our newly updated resource center.
We're always looking to expand the ways we serve you, and we hope you enjoy the new tools available for you!
Your Guidance Residential Account Executive is here to help with any questions. Looking to refinance or purchase? Rates have dropped to historic lows! Have a friend or family member who is looking for a home? Call 1.866.Guidance, or start an application today!
Start Your Home Buying Process