Pros and Cons of Buying a New Construction Home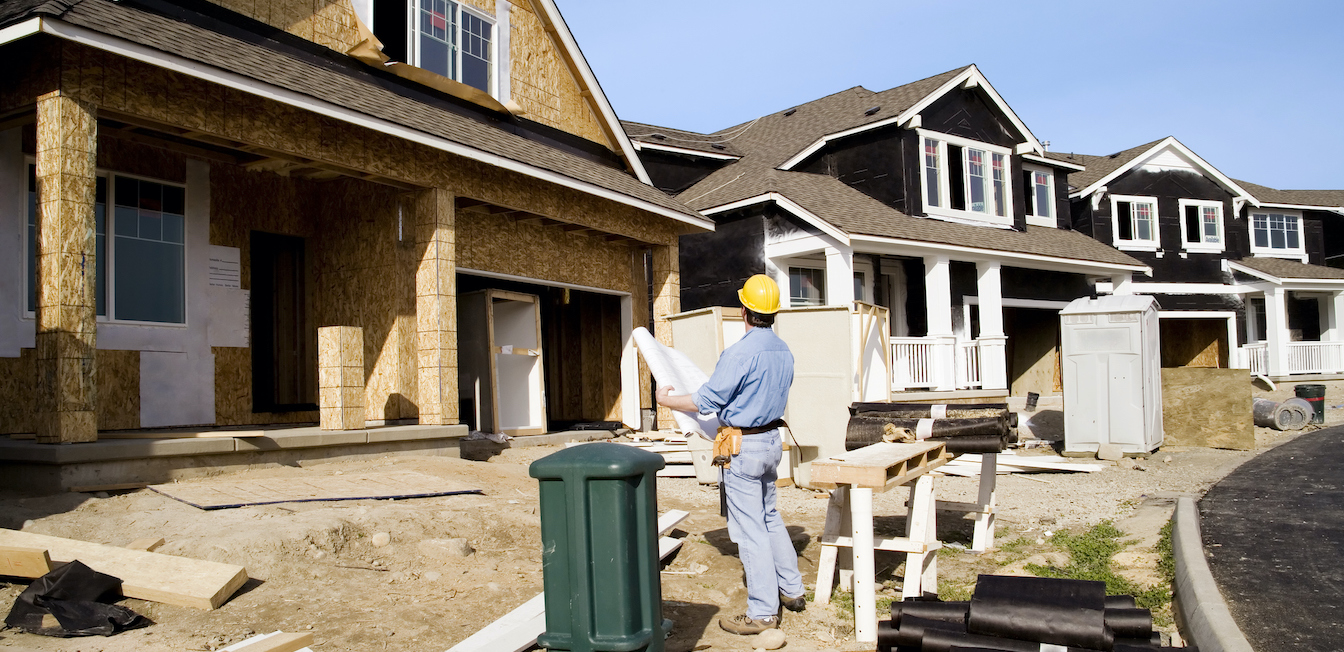 There are several routes you can take on the homebuying journey. With rising home prices, maybe you're considering alternatives and have thought about going the new construction route. Though lengthy and requiring a different knowledge set from purchasing a pre-existing home, this route may be for you if you like the idea of starting completely fresh.
Here we'll list the pros and cons to get you considering if a new construction home is right for you.
What Does New Construction Mean?
New construction means new homes, buildings, and structures without prior inhabitants or occupants. These newly constructed homes are typically made with all the latest technologies, materials, and built with modern conveniences in mind.
Meanwhile, we'll refer to old homes as homes that have been lived in. And historic homes, on the far end of the spectrum, are sometimes registered with the National Register of Historic Places as part of an area's efforts to preserve history. These homes tend to have ties with historical people or events.
If you're a first-time homebuyer, check out our guide: First Time Homebuyer's Guide
Buying a New Construction Home: Pros and Cons
Asking yourself whether buying a new construction home is for you is more than deciding whether you want to stay in an uninhabited home versus one that was lived in before.
You'll need to think about which part of the new construction process you want to be in. Some developers will offer you the plot of land and you'll work with them to pick materials. Or you can pick a home that has just been built.
Whichever one you choose, here are some pros and cons of new construction homes.
Pros of New Construction
Brand New
From the walls, roof, and flooring to all appliances, this is a brand-new home. You will be the first-ever occupant. Enjoy the newness of your home and its surroundings. Oftentimes, a new construction home will be around many new shops, community centers, and gyms in anticipation of new families moving to the area.
Move-In Ready
While an old home may also be move-in ready, you may have to make small updates here and there to bring the home up to your standard. However, with new construction, the home is move-in ready since it's new and doesn't require updates.
Less Maintenance
After your home is newly constructed, you won't need to repair anything like you may need to if you moved into an old home. But this doesn't mean you won't need to maintain it. It's just that there won't be a need to fix things immediately.
Warranty
As with purchasing new products, like electronics, new construction will often come with a warranty. You can purchase with a little more assurance that if something doesn't work, ask the developer to get it fixed.
Energy Efficient
A study by the U.S. Energy Information Administration found that even though the majority of new homes in the United States are 30% larger than old ones, they tend to consume only 2% more energy. That means technology has allowed homes to be more energy-efficient with better insulation and energy-efficient air conditioning. And your utility bill could be lower per month.
Customized
If you signed a contract with the developer when all you had was just a plot of land, you are able to customize the home just as you like it. That may include customizing the floor plan and choosing all of the material used in the interior and exterior of the home. You make everything fit according to your style.
Cons of New Construction
Costly
When it comes to thinking about old vs. new home costs, new construction can cost more than the average old home. However, with new construction, you're likely receiving the newest of everything—appliances, materials, and design. You're also paying for labor, which can go up yearly. Additionally, customizing a lot of the aspects of the home can incur additional costs, which can add up.
Location
Because older homes are already surrounding a city center, the location of newer construction homes is typically further away from the centers. But that doesn't mean that area won't eventually become a center as more new construction continues to be built.
Less Room for Negotiation
Part of the homebuying process is negotiating a price with the seller. In this case, you may have less negotiating power when dealing with a developer or builder and usually won't be able to negotiate at all. A builder's base price is usually set as is and they want to stay firm to make sure the comps of the entire development stay consistent.
Timing
If you're starting completely from scratch, your timeline for when you can move in may be unpredictable. Maybe you wanted to customize your kitchen with a specific material but it ends up taking longer to get delivered. You'll need to factor in these occurrences before you can plan to move in.
Choosing the Right Builder
Not all builders are the same. There may be one over the other that you prefer when it comes to the style of the home they are offering. But when choosing a builder, you'll also want to factor in the amount of experience they have and how reputable and reliable they are.
Buying an Older Home: Pros and Cons
Even with existing home sales prices rising, sometimes buying an older home is right for you. Maybe you like having a bit of history or prefer the location of the pre-existing home.
Here are the pros and cons of buying an older home.
Pros of Older Homes
Move-In Right Away
Though you may have some small renovations or changes to make, you can generally move in right away once you close on the home. With new construction, it might not even be available. You may have just purchased a lot and need to consider materials and floor plans, have it built, then only move in.
Established Neighborhood
Older homes are usually clustered in an area that is closer to the center of town. It may be walkable to the local school, amenities, and shops. You already know the area you are buying into without having to do research on what may develop in the future around your new construction.
More Yard Space
Generally, and depending on the neighborhood you are looking to purchase in, there may be more land surrounding the existing home compared to where new construction is being built.
Price
If we consider that the size and general area are the same for a new versus old home, the existing home may cost slightly less.
Cons of Older Homes
Cost to Maintain
Especially for historic homes and because they are older, they may need additional upkeep and repairs due to their age. Renovations may also need to be made to stay current with design or to add the technology needed.
Building Code Compliance
With laws regarding safety regulations or health regulations (like lead paint), you may need to get the home approved by inspectors to make sure the structure is current with housing laws.
The Bottom Line: It's About What You Want and Need
If you're considering whether to purchase new construction or a pre-existing home, it's best to weigh these pros and cons, along with factoring in your own needs and financial situation.
Ready to start the home buying process? Check out our home finance calculators to get a clearer picture of your budget. Or for a more accurate estimate, get pre-qualified online in fewer than 10 minutes.
Start Your Home Buying Process