How Much Does a Smart Home Cost?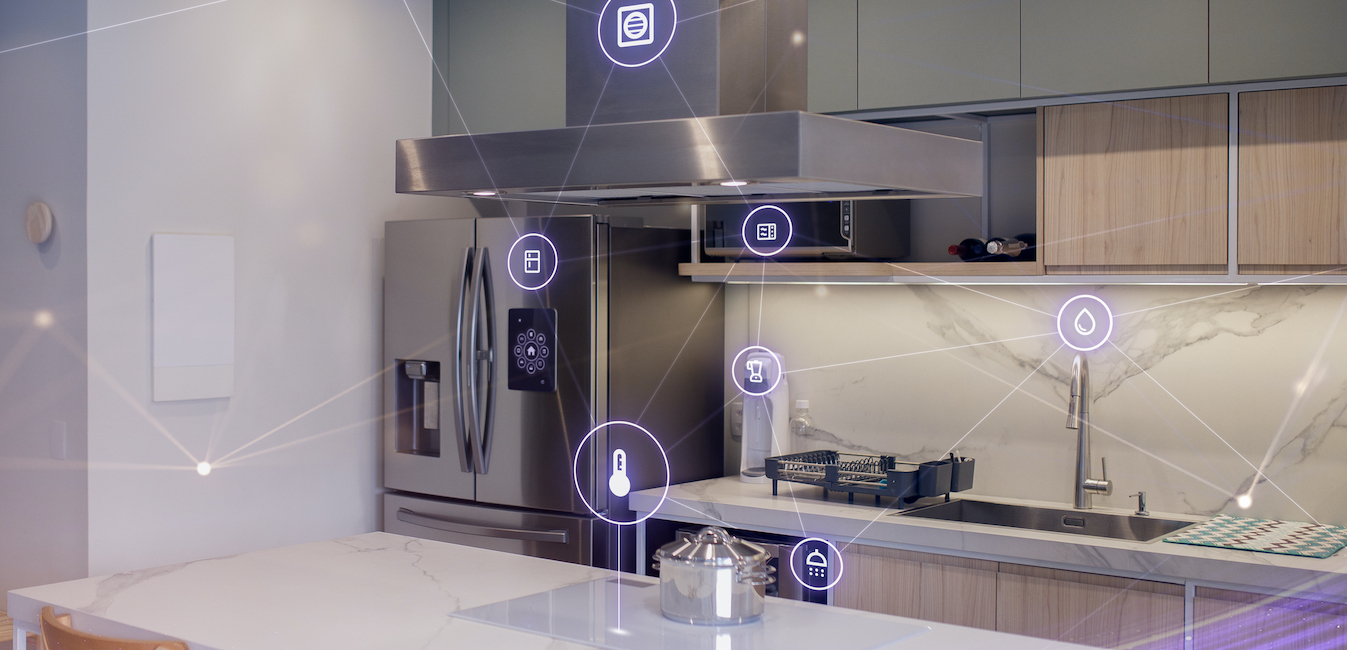 Smart homes offer not only convenience but enhanced safety and energy savings, too, making them highly appealing. As smart home technology becomes more common and accessible, the capabilities for what you can do with a smart home increase—but at what cost? The good news is that when it comes to making your home smart, you have plenty of choices, so chances are you can make some improvements that easily fit into your budget.
What's the Cost of Turning the Average Home into a Smart Home?
The total cost of home automation averages between $2,000 to $7,000. The majority of homeowners spend approximately $5,500 to install a smart speaker with a hub and automated lights, door locks, and a thermostat for three rooms. However, if you want to go all out in your kitchen, for example, the installation plus all the smart lighting, smart water dispensing, and cooking gadgets can cost you anywhere from $6,000 to $16,000.
Keep in mind that your exact costs will depend on the type and extent of the technology that you want to incorporate within your home. The size of your house will also affect pricing; it will be more affordable to make a one-bedroom house smart than it will be to make a four-bedroom house smart. This is simply due to the number of devices that you will have to purchase.
In addition, if you choose a system that requires a professional installation, you will need to budget extra for those installation costs. Choosing a system that is DIY-installation-friendly can save you some money, so be sure to add this to your list of things to research before buying a house if you want to make your home a smart one from day one.
Is a Smart Home Worth the Money?
While the cost of a smart home system installation alone may be eye-opening, smart homes offer many benefits that can help to justify their total cost. They can help you to spend less on your energy bills. Plus, by maximizing your home's security, they help prevent theft and property damage, saving you from those expensive headaches, too. (We'll talk more about the pros of smart homes in just a bit.)
The upfront cost of a smart home installation can be hefty, but there are also many ways that you can make the project more budget-friendly. Consider doing the project in stages, purchasing new equipment each year to spread the costs out. You can also use payment plans to gradually pay off the costs of the equipment. Keep an eye out for equipment sales, especially around dates like Black Friday and other holiday sales.
Remember that your smart home installation is an investment, too. The technology can help you to save money monthly moving forward, and the increased peace of mind and convenience that the system offers is even more justification for making that investment.
>> Explore all the factors that influence home pricing and get actionable tips on saving for your first home from this First-Time Homebuyer's Guide.
Pros of Smart Homes
Smart homes are rapidly gaining popularity, and that's because of the many benefits they offer.
Experience the Convenience of the Internet of Things
Smart homes are outfitted with devices that have sensors, software, and processing capabilities that allow for the exchange of data with one another, and with you. That connectivity delivers convenience, like when you view your home's security cameras while at work to make sure your child made it home safely from school, or when you can adjust the temperature from your phone so that you're not wasting gas or electricity.
Maximize Your Home's Security
When you connect your smart home system to security devices including cameras, motion sensors, automated door locks, and your alarm system, you can enhance your home's security. You can access your home's security system via your smartphone when you're home and when you're out of the house. You can also receive notifications when any security element is set off. It's even possible to operate and power your smart locks using your smartphone, allowing you to easily lock and unlock your home from afar while alleviating any concerns about charging the locks' batteries.
Create a Home That Matches Your Lifestyle
With smart home technology, you can customize and personalize your home so that it truly fits your lifestyle. You can set your blinds to automatically open and close at the times when you're usually up and in the living room, or you can use a smart fridge to monitor food inventory and seamlessly create a shopping list so you never forget the essentials. With a smart home, you can regulate everything from temperature to security to lights, positively impacting your health and well-being while providing you with more comfort, time, and freedom to enjoy living.
Spend Less on Energy Bills
Automating elements like your lights and your home heating, ventilation, and air conditioning (HVAC) system can save you money on your energy bills. If you're running late, you can use your smart home app on your phone to delay the time when your HVAC system turns on, saving energy. According to Simply Self Storage, a smart thermostat's energy management saves approximately $219 in energy per year, smart power strips save about $200 per year, and smart refrigerators save about $134 per year.
Save Money on Your Homeowners Insurance
If you don't yet have a security system in your home, installing one with your smart home system may qualify you for a discount on your homeowners insurance. Many insurance companies offer discounts for monitored alarm systems, as well as for other elements, like leak detection systems.
Earn Money from Surplus Power
All those energy savings mean you will consume less energy – and if you have solar panels, then you could actually make money on the energy that you don't use. Some energy grids will pay for surplus power that your home generates, and by making your home smart, you may have extra surplus power left over every month.
Automate Your Home Management
Managing your home by turning on and off lights, regulating the temperature, and activating your alarm system all take time. It's also easy to forget some of these tasks, especially if you're managing your home in partnership with roommates or other family members. Letting your smart home technology take care of these tasks helps to ensure that nothing gets overlooked, so you can focus on other important to-dos.
Cons of Smart Homes
While there are many reasons to invest in a smart home, there are also some downsides to consider.
Steep Price Tag
As noted above, a smart home can cost $2,000 to $7,000, with $5,500 being about average. While that's a lot of money to spend, keep in mind that your smart home can also help you save money in the long run.
Reliance on Stable WiFi
Most smart home products rely on WiFi. If your WiFi is disrupted, some functions may be disabled. Some products cannot be operated manually, so you may not be able to access portions of your system while your WiFi is down. In fact, some experts recommend keeping your smart home technology on a separate WiFi network.
Regular Updates to Software and Hardware
Smart homes are constantly evolving. You will need to ensure that your system's technology receives regular updates to keep it secure and functioning at its best.
Popular Smart Home Brands
As you shop for smart home technology, you'll have a wide range of smart home systems and brands to choose from. Consider starting with these well-known smart home brands.
>> New construction homes come turnkey and often include smart home upgrades. Explore the pros and cons of buying a new construction home now.
Package Ideas to Get You Started
Picking and choosing smart home items can be overwhelming, and it's important to choose products that work well together. Choosing a smart home package can take the guesswork out of getting started.
Thermostat: While you can start out with a smart thermostat system, you can also choose a full HVAC system encompassing air conditioning, smart ceiling fans, and learning thermostats.
Lighting: Often consisting of smart lamps, smart light bulbs, and smart light switches, lighting systems can start by automating a single room or only certain fixtures in your home, and then gradually expand throughout the entire floor plan.
Security: Automated home security systems tend to be the most expensive systems, depending on the size of your home and the types of devices you choose. For example, a smart home security system might include doorbell cameras, intruder alarms, water sensors, smoke and fire sensors, cameras, and smart door locks.
Home Energy: Whether you're looking to keep track of power usage by outlet, appliance, or your whole house, home energy monitoring systems can be plugged in or hardwired and even come solar-ready.
By Room Breakdown
The type and cost of the smart home technology that you may want to install will vary from room to room.
Bedroom: You can add bed alarms that alert you if a child gets out of bed, which cost $200 to $400 to install. You might also want to invest in a smart bed that adjusts its firmness, position, and temperature to your preferences. Smart beds can cost anywhere from $1,000 to $7,500 to install.
Bathroom: You can install a wide range of technology in your bathroom. A smart bathroom mirror can allow you to check your email while you're getting ready in the morning and costs $350 to $1,250 to install. A smart toilet is often equipped with a heated seat or speakers and costs $600 to $2,750 to install. For the ultimate luxury, consider a smart shower equipped with steam, lighting settings, and aromatherapy, costing $750 to $4,500 installed.
Living Room: Here, automation centers around your entertainment experience. Smart speakers cost $140 to $500 and allow you to vocally use an automatic assistant, so you don't have to get out of your seat. Smart TVs are also highly popular, allowing you to access all of your devices, from streaming to cable TV. They cost between $250 and $3,600. You can also invest in an entire smart entertainment system for $500 to $2,750.
Kitchen: Offering the most opportunity for smart technology, kitchens allow you to choose from a wide array of smart products, including appliances that you can operate from your smartphone. Consider a smart microwave ($700 to $1,700), coffee maker ($150 to $400), fridge ($2,100 to $5,250), oven, ($2,250 to $7,500), or stovetop ($150 to $2,750).
Other Smart Appliances and Products
You might also want to purchase other smart home products to enhance your lifestyle. Smart vacuum cleaners and mops can save you time on chores and help to keep your home clean on a day-to-day basis. Smart air purifiers help to keep your home healthy for your whole family, while smart home-gym equipment and scales can help you to meet your fitness goals.
>> Concerned about stretching your budget to include smart home upgrades? Refinancing down the road can give you access to equity for home improvement projects. Learn more about the refinancing process.
Should You DIY or Hire a Pro?
If you're looking to save money on your smart home, you might be tempted to try to install the devices and systems yourself. Whether this is a good idea will depend on your technical knowledge and the specific products that you've purchased.
Keep in mind that installing your technology yourself will take time, and getting everything set up and operating correctly can be a challenge. Plan to read directions multiple times, and consider whether the products you've chosen offer any type of phone support during the installation process.
It is often easier and worth the cost to hire a professional who can get the entire installation done right – the first time.
Getting the Automation Right
A quality smart home features technology set up in a way so that products communicate with each other. Different automation protocols can be tailored to how involved you want to be in your home management. You can use smart home features to save you time and add security to your home, or you can invest in a comprehensive system so that everything from your lighting to your home temperature to your security system is fully automated, and you don't have to worry about or operate any of it manually.
The Bottom Line: Know Your Budget
If you're planning to make your home smart, it's important to determine just which features you want the home to have. Then, create a detailed budget to make sure that you understand the project's cost. If you're planning to buy a home and then implement smart home technology, understanding the costs of smart home upgrades can help you to better determine how much home you can afford and how much money you can allocate toward smart home upgrades.
>> Ready to start the homebuying process? Check out our home finance calculators to get a clearer picture of your budget, or for a more accurate estimate, get pre-qualified online in fewer than 10 minutes.
Start Your Home Buying Process