ISNA Convention 2022: What to Expect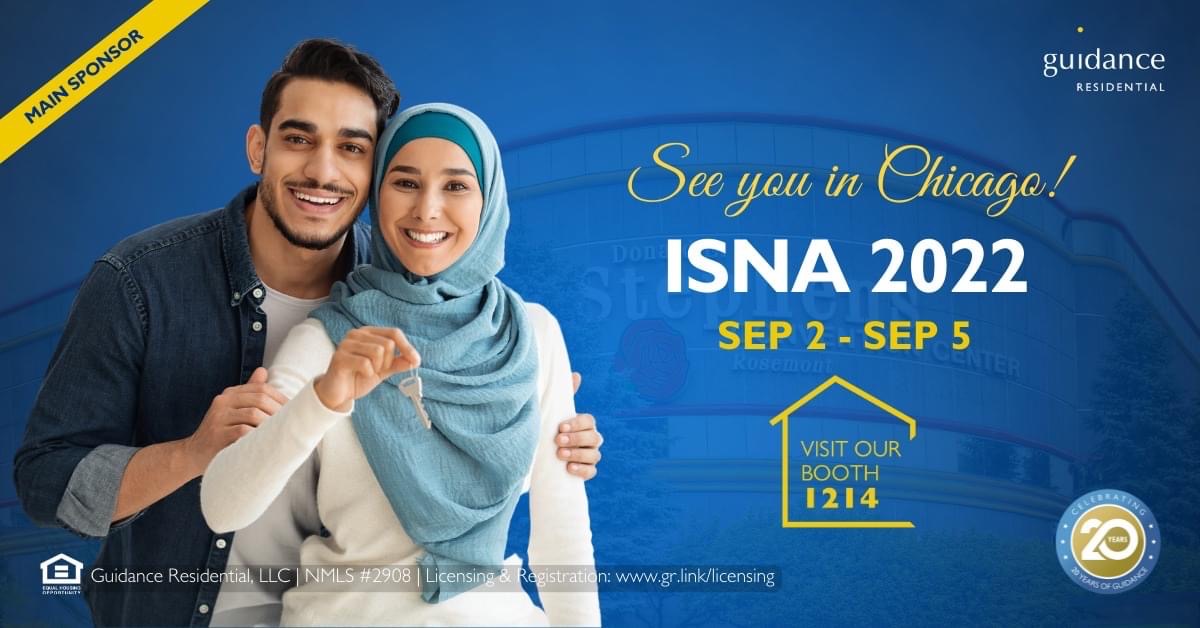 Guidance Residential will be at the 59th Annual ISNA Convention in Chicago at Booth #1214. As part of our efforts to invest in the community, we're proud to be a main sponsor this year.  
What Is ISNA 2022 All About?
The annual ISNA convention is one of the biggest Islamic events in America, and many Muslims look forward to it each year for the opportunities for education, inspiration, connection—and of course for the legendary bazaar.
This year, ISNA is hosting its 59th annual convention with the theme "Resilience, Hope, and Faith: With Hardship Comes Ease." It will be held on Sept. 2-5 in Chicago, and registration is open online.
ISNA aims to be a unifying organization serving the American Muslim community as well as fostering interfaith relations and civic engagement. Tens of thousands of people attend its convention each year.
ISNA Convention Program Features
Dynamic Speakers
The convention features major Muslim speakers from around the country. This year's speaker list features some of the biggest names in the American Muslim community, including these imams, scholars, and community activists: Omar Soleiman, Abdalla Idris Ali, Zaid Shakir, and Suhaib Webb.
Other major speakers include well-known community activists Linda Sarsour and Shaun King, who focus on issues of social justice, and Dalia Mogahed, a researcher and author who studies Muslim communities.
Speakers with a focus on interfaith relations include Dr. Ingrid Mattson and imam Mohamed Maged. Iesha Prime and Tamara Gray are known for their passion for uplifting women and nurturing their spiritual development. Other well-known scholars and experts include Yasir Qadhi and Abdul Nasir Jangda, as well as Muzammil Siddiqi, chairman of the Fiqh Council of North America.
And these are just a few of the biggest names.
Entertainment Session
One of the most popular sessions each year, at the end of a day full of education and inspiration, is the entertainment session. This session features live musical performances and stand-up comedy. On the list, this year is comedian Amer Zahr.
Bazaar
The bazaar is a major attraction that draws some attendees solely to shop. ISNA's bazaar includes more than 300 vendors offering products including clothing, books, and gifts. Other vendors showcase services such as Islamic financing. The bazaar is a great place for people and businesses to network.
Sponsorship Opportunities
ISNA is a nonprofit organization, and donations and sponsorships enable it to carry out its services. Businesses and nonprofit organizations sponsor the annual convention, and in return they receive opportunities such as booth or advertising space, allowing them to show the Muslim community the services they provide.
Youth Programs
ISNA has long supported youth through its youth group, known as Muslim Youth of North America (MYNA), which helps young Muslims connect, learn, and grow together. ISNA offers concurrent programming for youth at its conventions, aiming to teach and inspire and provide them with the resources they need for a stronger future.
Additional Programs
A wide range of additional programming is available in conjunction with the main convention, ranging from specialized chaplaincy training to a film festival. Many of these events require separate registration, so check ISNA's convention web page in advance.
Community Service Award Presentation
With a strong value on community service, ISNA will present its Community Service Award at a luncheon on Saturday.
Matrimonial Services
ISNA hosts matrimonial events at its conventions to provide a safe and relaxed environment for single Muslims to meet other Muslim singles who are looking for a like-minded spouse. Separate registration is available for matrimonial services at the convention.
Film festival and art exhibit
ISNA is accepting submissions for a film festival and an art exhibit to be hosted at the convention. For the film festival, submissions must reflect some element of Islamic history, spirit, values, ethics, etc. Selected films will be played at the convention, and selected art will be displayed.
Chaplaincy training
Training is offered before the main convention for those interested in a career as a chaplain or in improving their leadership skills. A special symposium is available for members of the military.
Interfaith Session
Interfaith sessions bring together different faith groups to foster respect and mutual understanding. ISNA will offer an interfaith session at the convention.
Want to know more about which events Guidance Residential supports? Check out our events photo gallery here.
Home Buying Resources